Prop Nathan Freer happy to be back at York City Knights
Last updated on .From the section Rugby League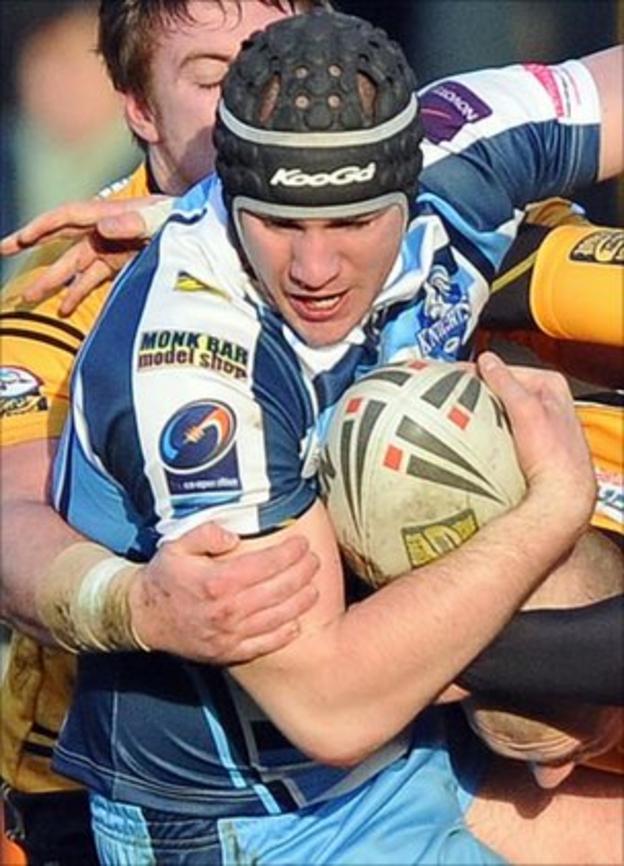 Prop Nathan Freer has said he feels more settled again now he has rejoined York City Knights.
The 22-year-old moved back to York after signing for Featherstone Rovers in the close season.
After struggling with travelling from Hull to training in Featherstone he told BBC Radio York : "I wanted to get back playing and enjoy it again.
"I spoke to the club and managed to sort something out and I'm really pleased about being back."
Freer first joined the Knights in 2008 from Hull FC and he spent two seasons with the club before moving to Featherstone.
He said: "I was struggling with my travel at Featherstone mainly.
"It was five times a week and I thought I could travel with somebody else at the time and struggled in that respect.
"Travelling by myself is a bit boring and I missed a lot of the lads here as well.
"I wasn't playing at the time and I felt I was missing it.
"I didn't leave Featherstone on bad terms and I think (coach) Daryl Powell understood my position, where I was.
"I'd signed for less money there than what was offered to me last year just because of the opportunity and I felt that I was moving in the right direction.
"I didn't leave on bad terms from either place really.
"There were five or six props (at Featherstone) and there were two props missing out each week that were probably more than capable of playing in any team in the league.
"I knew I'd go there and I'd probably have to wait for my spot.
"I was prepared to stay and play in the reserves and work my way through it but it was other factors affecting me and just helped make the decision.
"I feel I've made the right decision and since I've been back I feel like a new person. I'm really glad about it."