Bradford Bulls 'confident' they can avoid administration
Last updated on .From the section Rugby League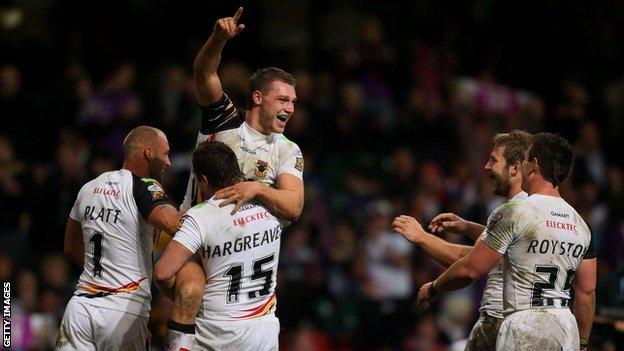 Bradford Bulls are "confident" they can avoid going out of business, saying fans have helped raise more than £100,000 in less than 48 hours.
Money pledged by fans, and talks with sponsors and potential investors, have led to a more positive outlook.
However, the Super League club still say the threat of administration cannot be completely ruled out.
Bulls football manager Stuart Duffy has, however, confirmed to BBC Sport that he is upbeat about their prospects of avoiding that fate.
Even though fans are being asked to pledge £100, players will not be asked to take a salary cut or put money into the club.
The club say they are also not planning to sell any players.
Since the Super League salary cap has been in force, Bradford have spent the maximum in all but one season - 2011 - and this year they have used up their full allocation of £1.65m.
On 20 March, Bradford forward Elliott Whitehead agreed a new five-year deal, but the club said they did not know the Royal Bank of Scotland would "pull the plug" when he re-signed.
The cash-strapped club claimed on Monday that their lending facility has been significantly reduced by RBS, but the bank have labelled this as "incorrect".
RBS's statement sent to the BBC said: "It is incorrect to say RBS has cut the Bulls overdraft. We have been aware of cash difficulties faced by the Bulls for some time and have supported them through the last few months.
"However, the Bulls' main security was the lease on the stadium which they have recently sold and we have not been provided with replacement security to date."
The Bulls are continuing to stand by their original claim.
The sale of Bradford's Odsal ground lease led to debts being paid to the Rugby Football League and to cover tax liabilties which were already owed.
Bradford, who attract average crowds of 11,000, make around £850,000 at season ticket sales.
In previous years, their investment on players and cost of pre-match entertainment meant that they did not cash in on their healthy attendances.
If the target is not reached within the time limit, then HM Revenue and Customs would be expected to issue a winding-up petition, forcing the club to appoint an administrator.
However, the club said they were already in talks with potential investors.
Former Bulls stars Jamie Peacock and Stuart Fielden are among those who have pledged support, along with the Lord Mayor of the City of London.
Former Bradford player Robbie Hunter-Paul told BBC Radio 5 live: "I left six years ago after we had just won Super League and everything seemed so solid.
"There is a bit of momentum now. Someone told me they had raised £100,000 yesterday. A lengthy benefactor isn't a necessity - Leeds are a perfect example of a model that can work."
A series of fundraising events will be held from Saturday to Thursday, including an auction. Among the items will be Brian McDermott's Challenge Cup medal.