Eddie Stobart is the new sponsor of Super League
Last updated on .From the section Rugby League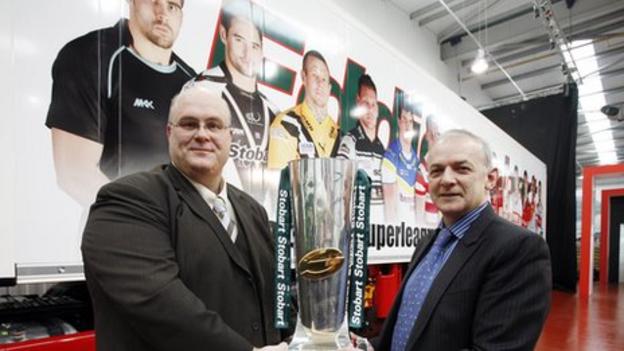 Trucking giant Eddie Stobart has become the new sponsor of Super League on a three-year deal.
The Rugby Football League has signed a deal with the Stobart Group, who also sponsor Widnes, which they estimate is worth up to £2.5m a year.
Five of the 14 Super League clubs voted against it, but RFL chief executive Nigel Wood insisted that it was "too good to turn down".
"We had lots of interest and more than one offer on the table," said Wood.
"But, without a shadow of doubt, the offer from Stobart was one the RFL and the clubs themselves thought was too good to turn down."
The renowned nationwide transportation and distribution company has not paid any cash to secure the naming rights of the Stobart Super League but will instead freely advertise the game on 100 of the 2,250-strong fleet of Eddie Stobart trucks.
Engage Mutual Assurance, who ended their seven-year sponsorship at the end of last season, paid £1m-plus a year for exclusivity.
But the RFL say that their new deal will enable them to bring on board additional commercial partners as part of a multi-layered package, while insisting that the sport will not lose out financially.
"I've heard estimates ranging from £1m to £2.5m in terms of the marketing value of this association," Wood told a news conference at the Eddie Stobart Training Academy in Widnes.
"But it's always hard to nail down a notional figure.
"The title sponsorship in previous years was all-encompassing, in effect a lock-out of other brands.
"This is the exact opposite. This has freed up inventory that is available which has a commercial value for other blue-chip brands to come in and support Super League.
"You will see over the course of the next couple of months partnership packages supporting the Stobart sponsorship so that you will find that the sport as a whole is financially in the same position.
Stobart chief executive Andrew Tinkler added: "There is always costs involved in dealing with something like this. There might be cash involved further down the line."
The Stobart Super League will kick off on Friday week, appropriately enough at the Stobart Stadium when Widnes host Wakefield, while champions Leeds meet Hull KR the same night at Headingley.