Harlequins revert to London Broncos name again for 2012
Last updated on .From the section Rugby League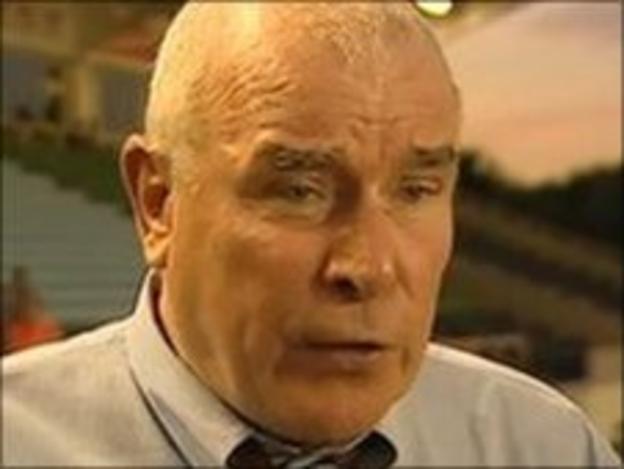 Harlequins RL are to revert to the name London Broncos next season.
After six years under the Quins banner, the club will play in Super League XVII as the Broncos and remain at The Stoop.
"It is a name that resonates with success on the pitch, which is what we want next season," said club chairman David Hughes.
"I've committed to the club for the next three years during this Super League licence period. We'll work hard to retain it in three years' time."
After seven seasons at The Stoop, the club have been actively working with the Rugby Football League to find a new playing venue of their own.
But, for the 2012 season, home games will continue to be played at The Stoop, with the exception of a couple of games scheduled to be played elsewhere 'in an effort to showcase the game to a wider audience'.
And a revised three-year agreement to remain at Harlequins' long-time home is still under discussion.
The return to the Broncos brand will also involve a change of strip.
The home kit will be black, with a bright blue trim, and the new away strip will be the reverse - bright blue trimmed with black.
Having played in a Challenge Cup final at Wembley against Leeds in 1999 as the London Broncos, many fans will be happy to see the name return.
"We engaged with fans and stakeholders and included as many people as possible in the rebrand process so as to take on board everybody's views," said chief executive Gus Mackay.
"The fans and players mostly pointed towards a return to the London Broncos and their ideas are reflected within the brand concept.
"This relaunch provides us with a unique opportunity to target a new audience and raise awareness. We're committed to making Super League a success story in London."
Coach Rob Powell added: "We have invested heavily in the team over the off-season and we are all really excited about pre-season and getting ready for next year.
"Going back to being the London Broncos is a great move. The players and playing staff are all behind it and it's an opportunity for a new start under an old name."