England's Jon Wilkin says he is at the top of his game
By Shamoon Hafez
BBC Sport
Last updated on .From the section Rugby League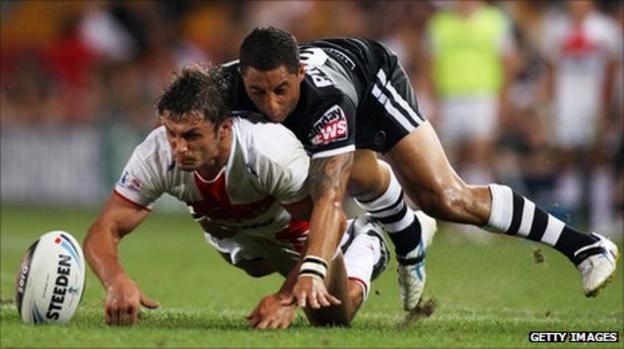 St Helens's Jon Wilkin believes he is at the top of his game going into the Four Nations tournament next week.
The second-rower, who has lost five straight Super League Grand Finals following this month's defeat by Leeds, hopes to change his luck with England.
He said: "This is the best-prepared side we've had. The coach [Steve McNamara] has left no stone unturned.
"There is not a lot more that could have been done and it feels like I'm at the top of my game."
England kick-off their Four Nations campaign against Wales at Leigh on 29 October, followed by games against Australia and New Zealand.
And Wilkin, who made his debut for the now-defunct Great Britain side in 2006, says the side are in exceptional shape going into the tournament.
He told BBC Sport: "In my time as an international player, this is the most contact I've had with a squad.
"We have had two or three training camps, we've met up through the year and come together feeling comfortable and familiar.
"Even though we have a couple of lads coming in from outside the ETS (Elite Training Squad), the training side of things has been really positive."
After the disappointment of losing another Grand Final, Wilkin is putting his club commitments aside to focus on representing his country.
He added: "I'm really excited about being part of this squad and every chance you get to play for your country is precious.
"I want to enjoy all these little moments. You just don't know when they might stop coming and, at the moment, I'm pleased with my own form and happy to be in the squad.
Wilkin played in the final of the tournament in 2009, when the team were outclassed by Australia at Elland Road.
Head Coach McNamara feels the side can go one step further this time around.
He said: "I think we are in a great position to win the tournament.
"We've got a great squad, had a great year preparing, and the team are in good spirits.
"We will attack this competition aiming to win it.
"We've got a fantastically made-up squad, I'm really pleased with the balance."
Rugby league players are allowed to switch allegiances from one country to another. Warrington prop Garreth Carvell represented Wales in 2000 but is now in the England squad.
And there was controversy surrounding the selection of Castleford's Rangi Chase, who was born in New Zealand but qualifies to play for England through residency, as well as Chris Heighington of NRL club West Tigers, who was born in Australia but is eligible to play through his father who lived in Durham.
But Wilkin has no problems in who represents the country.
He said: "Rangi Chase is the Man of Steel and has been the best player in our competition. The lads that have come over from Australia have signalled their intention to play for England and [are] of the standard that you are looking for.
"Everyone is excited to see them play which will prove to people that they are worthy of their spots in the team."
Wilkin and Leeds's Ryan Bailey had a well-publicised spat after the St Helens man accused his England team-mate of over-celebrating following the Grand Final.
But McNamara is not expecting any problems between the duo when they line-up together.
He said: "We understand differences happen between players and that is why we've had camps throughout the year.
"When you play a gladiator sport like we do - and part of the job is to physically reduce the opposition - there can be some really intense rivalries."