Leeds Rhinos reveal Bailey signed new contract last year
Last updated on .From the section Rugby League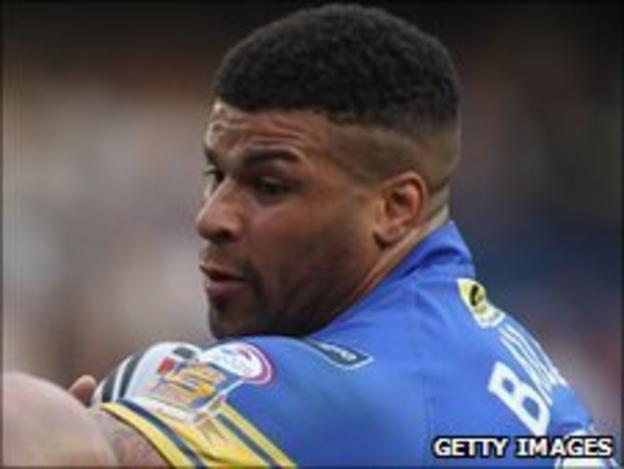 Leeds have ended speculation over Ryan Bailey's future by admitting that they forgot to announce his new contract.
Ahead of Saturday's Challenge Cup final at Wembley against Wigan, it has now emerged that he signed a new deal at the start of last season that included this campaign and the next.
"It wasn't until recently when people kept asking me if I was leaving that I realised," said the 27-year-old prop.
"I didn't think much about it and just presumed it had been announced."
The former Great Britain international added: "I had no intention of leaving, this year or last year, but it is nice to keep people guessing.
"To be honest, it was nice to have people telling me that they wanted me to stay.
"I have been at Leeds all my rugby career and it is the best club in the world."
Leeds chief executive Gary Hetherington added: "We tend to do our contracts at a similar time.
"Unfortunately for Ryan, he has become the 'forgotten man' in all the negotiations and we forgot to announce his new contract despite the fact that all the paperwork was lodged with the RFL at the time.
"Ryan has been in great form this season and I am sure he will make a name for himself once again on Saturday at Wembley."
Bailey will be hoping to help lift the Challenge Cup at the fourth attempt, having tasted defeat three times.
He was in the Leeds side beaten 22-20 by Bradford at the Millennium Stadium in 2003.
He then suffered another narrow reverse against Hull, 25-24, also in Cardiff two years later.
But the worst of those three defeats was suffered a year ago when Leeds were hammered 30-6 by Warrington. And Bailey knows that the thought of facing the Super League champions is just as daunting.
"Wigan will come into the game full of confidence," said the four-time Grand Final winner. "We need to make sure that we pull together.
"Anything can happen in a one-off game and we know that we have to bring our 'A' game if we are going to finish the job off.
"It was good to go to Wembley last year but it is not about just getting there.
"It is about winning the Cup and that has to be our focus this time round."