Salford City Reds must ring changes - Matt Parish
Last updated on .From the section Rugby League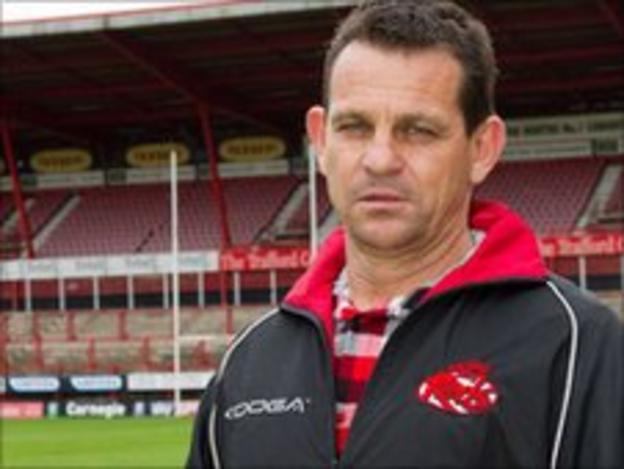 Salford City Reds head coach Matt Parish has said that there are many things that need to change at the club.
"I don't mind challenges, but you need to see change if you want to improve, you need to see change," he told BBC Radio Manchester.
"I know if I can get some change, I know we can get some improvements, but the club definitely needs to change."
The Australian joined from New South Wales, where he was assistant coach, to take over from Phil Veivers, who had been in caretaker charge since the departure of Shaun McRae.
Asked if he was confident he could achieve changes at Salford, Parish responded: "That's probably not for me to answer.
"We need to be united, consistent in everything we do, both on and off the field and at the moment I don't believe either of those things are happening.
"It's not just all about finances. It's about providing a club and an environment that people want to come to.
"It's about being honest and united and working with what you've got so you can all be heading in the one direction and produce the results that fans and the board want.
"The thing that has surprised me the most was that I wasn't expecting what I was coming to.
"If you talk to people from other clubs, and in the Super League in general, they've all got an opinion about Salford and unfortunately it's probably not the one it's not what we'd like to hear."
This is the Reds' last season at the Willows, before they move to a new stadium at Barton, but Parish has a stern warning that a new ground will not solve their current problems.
"We've got a fantastic opportunity in the next couple of years, moving into stadium to make a few changes and make a few decisions where we can get on the front foot," he added.
"But at the end of the day, moving to the new stadium isn't going to fix the problems at Salford.
"I've been brought here to do a job and I think I've been very honest and up front with them from day one, and the job that they want me to do, and the job I want to do, are probably not, at the moment, the same.
"I know that we can fix things, but I know there is a good club here with a lot of good people in it."