Barrow chairman Johnston quashes Wright sack rumours
Last updated on .From the section Rugby League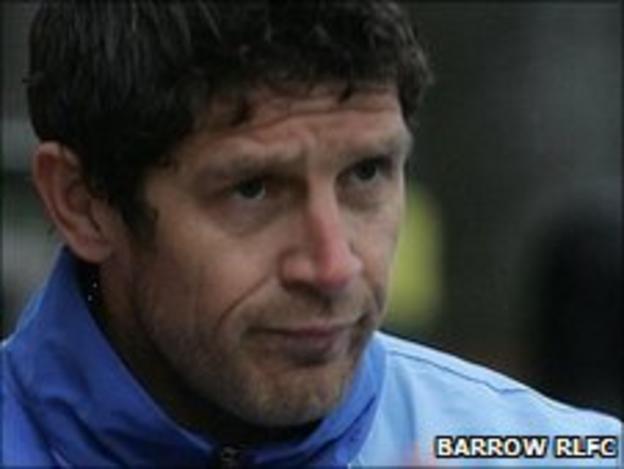 Barrow Raiders chairman Des Johnston has quashed speculation that head coach Nigel Wright is to be removed from his post, two months after taking charge.
Wright has lost four of his first five games in charge but had orchestrated a run of four straight league wins before Thursday's 42-14 defeat by Widnes.
"Nothing at all has gone on," Johnston told BBC Radio Cumbria.
"If we went to the media everytime we had a fall-out at Craven Park we'd be in the paper every two minutes."
Johnston added: "As Nigel has said, we're both passionate people, I'm passionate about rugby league, Nigel's passionate and so is Martin Clawson.
"We work hard, we're all working hard."
Wright, who missed the match due to a road closure, took over from the departed Garry Schofield in March.
Meanwhile Johnston has admitted there is little room for manoeuvre in the squad budget at Craven Park at present, limiting Wright's options for strengthening the Raiders squad.
Gates have been an issue, with attendances dropping as low as 1,300 for recent fixtures with Dewsbury and York, having almost touched on 2,000 for the win against Widnes in April.
"I hate saying this, but we can't have players on salaries stood on the sidelines," Johnston continued.
"Everyone in rugby league knows that the finances are difficult and we're not the only club in that position.
"But if we don't start getting some help, you look at the last two gates at Craven Park, we're 500 people down.
"If you multiply 500 by £15, then that's £7,500 a game, and it all starts adding up.
"I can't do it on my own, we need help, we need investment."