York City Knights hope for upset on Peter Fox's return
Last updated on .From the section Rugby League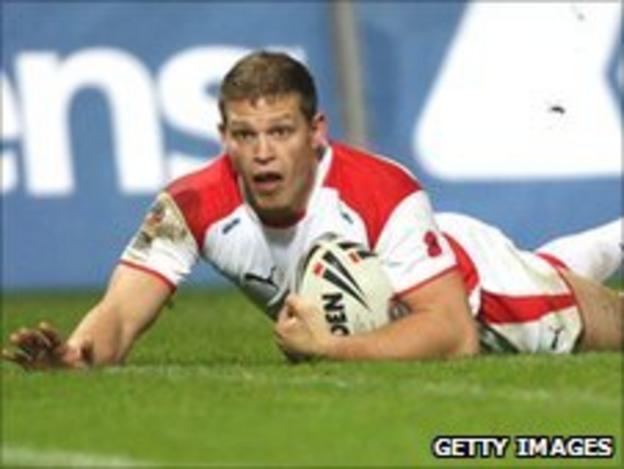 Hull KR and England winger Peter Fox has come a long way since leaving Championship side York City Knights.
After four Super League seasons and six international caps he will return to face his home-town club for Sunday's Challenge Cup fourth round tie.
"It put a smile on my face when I first found out we were playing them," he explains.
"I'm looking forward to playing there again - I have a lot of happy memories there."
As a teenager, Fox ran in 25 tries as part of manager Mick Cook's Knights side, who first won promotion as Championship winners in 2005.
And, although he has gone on to success with Rovers and England, finishing the Robins' top try scorer for the last three seasons, he reflects fondly on his time at Huntington Stadium.
"Hull's not too far from York so I often go and visit," he said. "York gave me my first chance to play senior rugby so I had a great time there.
"They were an important club to me - the starting point in my career - and I took a lot of confidence from playing there under Mick Cook.
"The fans were always loud and it was great to play in front of the home crowd at Huntington Stadium."
Hull KR's slow start to the season leaves them third from bottom in Super League, with only four wins from their opening 13 matches.
It is a statistic that means a Challenge Cup run could provide the Robins' best chance of success this season - and the prospect of going all the way in the competition excites Fox.
"It's one of my dreams to play at Wembley," he comments. "Every young player coming up wanting to play at professional level wants to play there.
"But it's one step at a time. We've got York first and you can't disrespect any team no matter what league they're in. That's the beauty of the Challenge Cup."
Meanwhile, Knights prop Jack Stearman is harbouring ambitions of a different kind.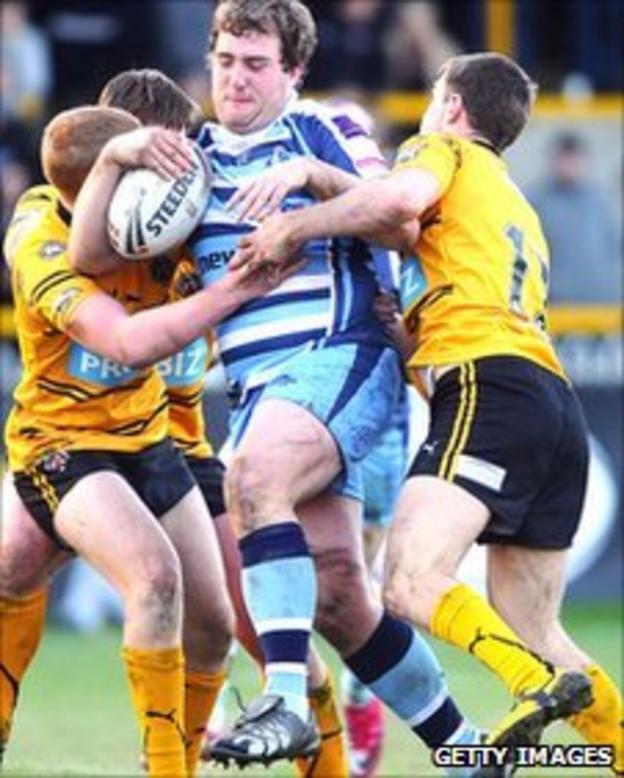 The 23-year-old, a cousin of footballer Richard Stearman, who plays at centre-half for Premier League Wolves, also hails from the city.
And, just like Fox, he won promotion with the Knights in his first full season in the first team, having been part of Dave Woods' Championship-winning side at the Halliwell Jones last September.
And Stearman is looking forward to the club's biggest game since that stunning 25-4 victory over Oldham.
"Playing against a Super League team is the top level you can be at," he says. "To pit yourself against international players is a dream come true.
"It's going to be tough but I'm looking forward to it. They haven't been playing that well and, if we're on our game and they're off theirs, there's no reason why we can't beat them.
"We're looking at a 4,000 sell-out being there, so it will be special day for the club and for the city."
After a poor start to the season, which saw York go five games without a win, the Knights have turned things round with successive wins against French side Toulouse and a 30-26 home victory over Dewsbury on Sunday.
And Stearman is hoping that they can carry the momentum into this weekend's match.
"Our league form didn't start off great," he said. "But we went to France and got a great result.
"We backed it up against Dewsbury and it will be all guns blazing against Hull KR.
"We lacked a bit of self-belief before the Toulouse win but, having the weekend away and playing as well as we did was massive - and I think it will prove to have kick-started our season."
Stearman, who works during the week for the Knights community programme, believes a Challenge Cup run could have wide-reaching benefits for the sport in the city.
"There's thousands of rugby league supporters in the city, but a lot of them will go and watch teams like Leeds or Bradford.
"A good Challenge Cup run and a victory against Hull KR would definitely help draw more attention to the club.
"We've seen the effect the success of the Championship final win last year - we've had fans that have come back to watch us."
And Stearman is hoping his work, which aims to increase participation in the sport, will bring more homegrown players through to follow in the footsteps of himself and Fox.
"To represent your home town in any sport is fantastic," he said.
"I'm one of the only lads in the squad from York and the aim is to get more local players coming through.
"In the long term hopefully we'll see what a success the community programme can be."
And, while Wembley might not quite be on the horizon for the Knights, a victory over Hull KR on Sunday would undoubtedly provide a huge boost.
"Anything can happen in the Challenge Cup," said Stearman. "If we have our day then there's no reason why we can't go a bit further."