Leeds' Ryan Bailey given one-match ban for fighting
Last updated on .From the section Rugby League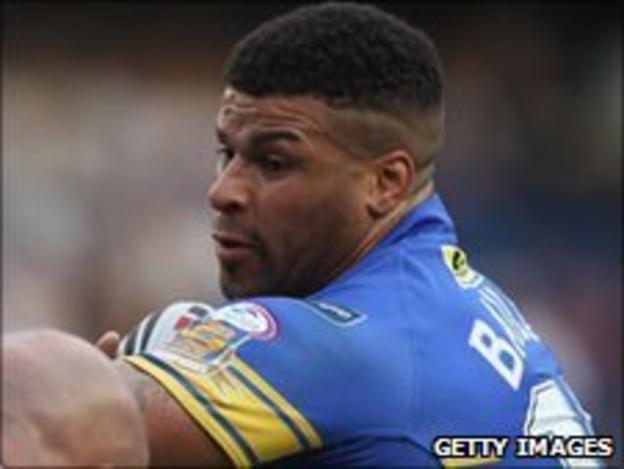 Leeds prop Ryan Bailey has been given a one-game ban after being found guilty of fighting.
Bailey, 27, was sent off against Huddersfield at Headingley on Friday in a fixture the Giants won 38-6.
He will not appeal against the decision and will miss the Rhinos' derby against Bradford on Thursday, as well as landing a £500 fine.
Huddersfield's Kevin Brown was found guilty of fighting but avoided suspension and was fined £300.
Huddersfield's win, their first at Headingley in 51 years, took them to the top of Super League.
Giants coach Nathan Brown was furious after the game, which also saw Luke O'Donnell sent off for his part in the incident, and the 37-year-old Brown could yet find himself in trouble with the Rugby Football League for his remarks.
Of the incident, Brown said: "It was disgraceful, horrible. Luke O'Donnell has run in but hasn't thrown a punch after Kevin Brown had been hit late, off the ball. Then Bailey picks him up and punches him.
"Luke O'Donnell should have run in and knocked him out cold. And he shouldn't have been sent off either because the officials are the ones that let that get out of control.
"If one of my players did that I'd expect him to be sent off and I would expect one of the Leeds boys to get stuck into my player immediately.
"It really winds me up. The coaches' meetings we go to are an absolute waste of time.
"If key players get hit late, the offenders are supposed to get sent off. It's an absolute disgrace.
"Officials have got to start doing something about it or you've got to tell your players to do it.
"The next time we play them and they start hitting high, I'll be instructing my players to do something about it, unless the officials start doing something about it. The referees are there to protect the players."
In March, the Rhinos fined Bailey for jokes about the Japan earthquake and tsunami that appeared on his Facebook page.