World Rowing Championships: Great Britain win PR3 mixed coxed gold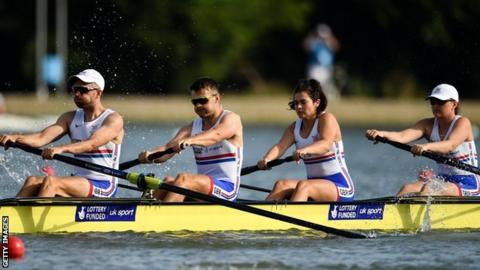 2018 World Championships
Venue: Plovdiv, Bulgaria Dates: 9-16 September
Coverage: Watch live on BBC Two from 12:30-14:00 BST on Sunday.
Great Britain won gold in the PR3 mixed coxed four at the World Rowing Championships in Plovdiv, Bulgaria.
A team comprising Paralympic champions Grace Clough and Daniel Brown, Ollie Stanhope, who with Clough won the same title a year ago, and newcomer Ellen Buttrick, coxed by Erin Wysocki-Jones, held off the USA to take the victory.
France took the bronze medal.
The time of seven minutes 36 seconds was five seconds outside the world best the GB team set at last year's Worlds.
"That really went to plan," said Stanhope.
"We always had belief in ourselves for today. Credit to the whole crew, we really stepped it up and a big thanks to the whole team to have made this possible."