World Rowing Championships: Shorten through to women's eight final with GB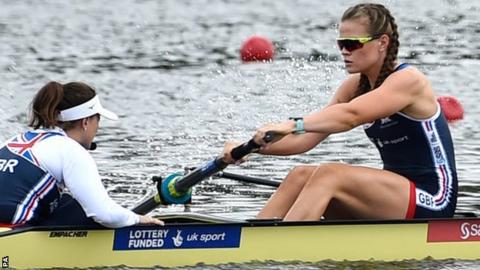 Belfast rower Rebecca Shorten and her Great Britain crew have reached the women's eight final at the World Rowing Championships in Bulgaria.
They finished fourth in the repechage on Friday morning and will take their place in the final on Sunday.
The GB team finished ahead of New Zealand, with the Netherlands winning from Romania and Canada.
Banbridge man Philip Doyle and Ireland team-mate Ronan Byrne, meanwhile, missed out on a double-sculls final.
The pair came fifth in the semi-final after winning their repechage by over three seconds from Bulgaria on Thursday in Plovdiv.
Ireland's Sanita Puspure is through to the women's single sculls final after winning her semi-final comfortably.
Ryan Ballantine of the Portora boat club in Enniskillen was in the Irish crew which came fifth in the lightweight quadruple skulls 'A' final.
Shorten and her colleagues had finished second in their heat on Wednesday.
The 24-year-old won silver with the GB eight crew at the World Cup regatta in Belgrade in June.