World Cup: Gold for men's quad as GB finish fourth in medal table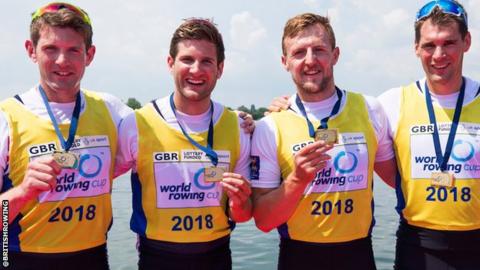 The men's quadruple sculls won gold as Great Britain finished fourth in the medals table with five medals at the World Cup in Belgrade.
Thomas Barras, Jonathan Walton, Graeme Thomas and John Collins recorded a time of five minutes 38.860 seconds to finish ahead of Germany.
There were silvers for the men's and women's eights, plus the doubles sculls team of Jack Beaumont and Angus Groom.
Emily Craig and Ellie Piggott won bronze in the lightweight double.
They recorded a time of 6:51.640, with the Netherlands taking gold in 6:49.270.
Britain's men's eight of James Rudkin, Josh Bugajski, Tom Jeffery, Oliver Wyne-Griffith, Mohamed Sbihi, Alan Sinclair, Mathew Tarrant, William Satch and Henry Fieldman finished in 5:26.010, with Germany winning in 5:24.910.
The women's eight, comprising Anastasia Merlott Chitty, Rebecca Girling, Rowan McKellar, Harriet Taylor, Karen Bennett, Holly Norton, Fiona Gammond, Rebecca Shorten and Matilda Horn, came home in 6:11.130 as the Netherlands won in 6:07.22.
Beaumont and Groom clocked 6:09.08 in the men's doubles, narrowly behind the victorious Lithuanian crew in 6:08.29.
The Netherlands finished top with 10 medals, seven of which were gold.
Germany were second with nine - two gold, two silver and five bronze - while the Czech Republic were third with only three medals, but two gold.