World Cup: Rebecca Shorten helps GB eight crew to second in Belgrade final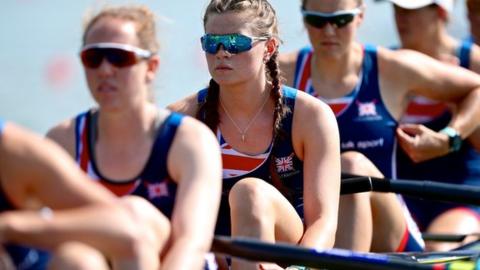 Rebecca Shorten won a silver medal for Great Britain in the women's eight at the first World Cup regatta of the season in Belgrade on Sunday.
The team finished second in the final, almost four seconds behind the Netherlands who took gold.
The 24-year-old from Belfast also stroked the women's four to fourth place.
There were only four crews entered in the final of the women's eight, including two from China.
It was a battle between the Dutch and Great Britain for first place from the halfway mark, with the Netherlands coming out on top.
Both teams had women doubling up in the four, with the Dutch crew also winning that race.
Shorten and her Great Britain team mates Fiona Gammond, Holly Norton and Karen Bennett failed to make the podium by 0.24 of a second.
Ireland's Olympic silver medal-winning brothers from Skibbereen, Gary and Paul O'Donovan, finished third in the final of the lightweight men's double sculls behind Poland and Belgium.
Sanita Puspure, meanwhile, took a silver medal for Ireland in the women's single sculls behind Jeannine Gmelin from Switzerland.
The second World Cup regatta takes place from June 22-24 in Linz, Austria.