World Cup: Rio Olympian Will Satch returns to action for Great Britain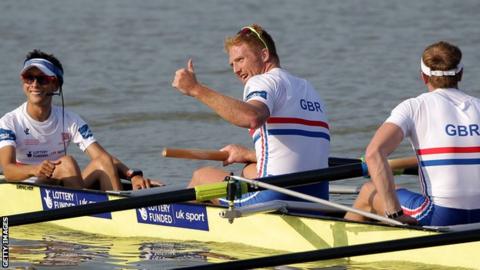 World Cup rowing on the BBC
Venue: Ada Ciganlija, Belgrade, Serbia Date: Sunday, 3 June
Coverage: 09:30-13:00 BST - live on Red Button, Connected TV, BBC Sport website and mobile app, 13:30-15:00 - highlights on BBC2
Rio Olympian Will Satch returns to competitive action for Great Britain at the World Cup in Belgrade after being treated for a heart complaint.
Satch, 28, won a gold medal in GB's Eight at Rio but required a procedure to cure atrial fibrillation last year.
Now in the Men's Four, Satch is one of a 43-strong GB team competing at the first World Cup event of the season.
"I can't wait - I'm really excited to just get out there and fight again," he told BBC Sport.
Satch had suffered from the condition - which is rare at his age, can be hereditary and causes the heart to beat irregularly - since he was a teenager.
"I was getting bouts of it going into Rio," he said. "Your heart beats like it wants to do 200 [beats a minute] and then stops and starts - really erratic."
Last year, it twice flared up at rowing events in Poland and Florida, forcing Satch to opt for the procedure.
"It happened during racing, so it got a bit more serious," he said. "I had one the day of the semi-final in the pre-paddle.
"I went and spoke to the doctors and decided then, in my head, that I needed to get this procedure done."
The procedure, called an ablation, uses heat to create scar tissue in the heart to block abnormal electrical or muscle impulses to stop the arrhythmia.
Satch suffered migraines after the ablation, which are often a side effect of the procedure.
"I've had a few issues but touch wood, I'm through it," he said. "I wanted to be back for the season. So I'm back now racing for the first World Cup."
GB's rowing squad are now rebuilding at the mid-point between the Rio and Tokyo Olympics.
"It's going well - not that I wouldn't expect it to. You look on paper and there's not loads of names - but they're all really hungry.
"Rio, obviously, was the dream. That race was incredible - I've never been in a boat like it. But leading up to it there were loads of rubbish times - it took all year for us to get that performance.
"It's like the underdog mentality we had coming into London [2012] that I've really missed the last four years. I feel ready to pounce."