Boat Race 2018: Cambridge have tallest ever Boat Race competitor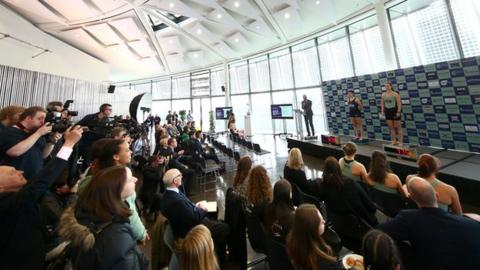 Standing in front of a room full of journalists equipped with cameras and microphones and having to step on a set of scales to be weighed.
Sounds like most people's worst nightmare.
But this step marks an incredibly important period in the life of a Boat Race rower.
Thirty six athletes have been selected - and weighed - for the blue riband event in the university sport calendar, which takes place on 24 March.
Both the men's and women's boats from Cambridge are the heavier of the crews, suggesting more muscle and therefore more power.
Among the crews this year are students of chemical engineering, American history, astrophysics and plant sciences.
At 6ft 10in, American James Letten - who sits in Cambridge's number four seat - is the tallest man to ever compete in the event.
Oxford have won four of the past five men's races and are catching up with Cambridge in the overall standings - it's 82-80 to the Light Blues.
There is a bigger gap in the women's head-to-head - with Cambridge leading 42-30 - but Oxford hope to narrow the gap with an experienced crew.
More than 250,000 people are expected to take to the banks of the River Thames to catch a glimpse of the boats whizzing past - making this one of the biggest spectator events of the British sporting calendar.
And there has been plenty of drama.
In 2012, the race had to be stopped and restarted when a man swam between the boats to protest - in his words - against elitism and inequality.
He was later jailed for six months for causing a public nuisance.
It is also not uncommon for boats to sink, which is what almost happened in 2016 to Cambridge's women.
Then, last year, the races were in doubt after a suspected World War Two shell was discovered on the banks of the River Thames.
2018 men's crews:
2018 women's crews:
The Boat Races take place on Saturday, 24 March, and BBC Sport will have worldwide TV and online coverage.