World Rowing Championships: Four medals for Britain as Para crew take gold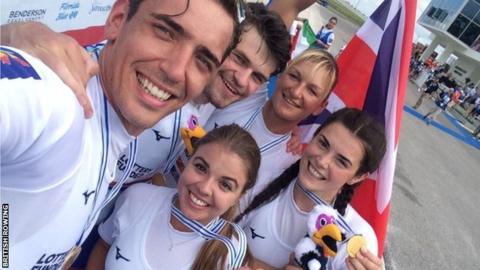 World Rowing Championships
Venue: Sarasota-Bradenton, Florida Dates: 24 Sept-1 October
Coverage: Watch live on Red Button on Sunday, 1 October. Click for BBC coverage times.
Great Britain's Para mixed coxed four crew set a new world record as they won gold at the 2017 World Rowing Championships in the USA.
A crew of Oliver Stanhope, Grace Clough, Giedre Rakauskaite, James Fox and cox Anna Corderoy won in six minutes 55.7 seconds in Florida.
It was the first of four medals for Britain on Saturday.
The men's quad won a silver medal after the men's four and women's quad had both claimed bronze.
That brought Britain's medal haul for the championships to five following the lightweight men's quadruple scull's silver on Friday.
Sir Steve Redgrave told BBC Two the Para mixed cox four's performance was "absolutely outstanding" as they took gold from the USA and Italy.
Crew member Fox added: "We've had a tough year and only been together for eight weeks, so to dominate like that is promising."
It was an impressive finish for the men's quad as they won a silver medal, despite having to replace the injured Pete Lambert with Graeme Thomas moments before the race.
The British crew of Thomas, Jack Beaumont, John Collins and Jonny Walton edged out Estonia as Lithuania won gold by almost two seconds.
Lambert had twinged his back with the boat already out on the water, leaving the crew scrambling to find a replacement.
Thomas, who was in the grandstand, said he got a WhatsApp message saying "you, needed, now" and rushed to join them before the start of the race.
"All credit to these boys, they should have been on the top step today, but I did my best," added Thomas.
'They are going to come back fighting'
There was disappointment for the men's four of Moe Sbihi, Will Satch, Matt Tarrant and Matt Rossiter, despite their bronze medal at Sarasota-Bradenton.
Australia dominated to win in five minutes 55.24 seconds from Italy, with the British crew more than two seconds adrift of the gold medal winners.
"Obviously we're disappointed, but it's been quite a difficult season and this week has been challenging," said Sbihi. "We tried something a little bit different, but right now, this year, that's where we're at unfortunately.
"You could tell that everyone wanted to beat us and we have to live with that pressure for the whole season.
"The Australians are a talented crew at the moment and definitely someone we have to chase down over the next three years."
Five-time Olympic gold medal winner Redgrave said the British crew would be "hurting" following the result.
"We have been so dominant in this event that this isn't what we're used to," said Redgrave. "We want more and for our best chosen unit to come in third is not a good result.
"Questions will be asked, but it is the stepping stones of getting to the next Olympics. You want to get out there like the Australians did and show "we are the class act".
"It hasn't been the perfect year's build-up and they have still got a bronze medal - it's not all doom and gloom. The next three weeks they are going to be hurting and they are going to come back fighting."
'Special way to win bronze'
It was a more positive trip to the podium for the women's quad, who fought back to pip Germany to third place as the Netherlands took gold and Poland claimed silver.
A crew of Jess Leyden, Matilda Hodgkins-Byrne, Holly Nixon and Bethany Bryan finished in six minutes 19.93 seconds.
"That's a special way to win a bronze medal," double Olympic gold-medallist James Cracknell told BBC Two.
"It was a four-boat race and that was fantastic, they should look back on that as the perfect building block for the next three years."
Elsewhere, Holly Hill and Melissa Wilson finished fourth in the women's pair, Kat Copeland and Emily Craig were fifth in the lightweight women's double and men's pair Tom Jeffrey and Tom George also took fifth.