Gavin Horsburgh leads British quadruple scull team to silver in World Championships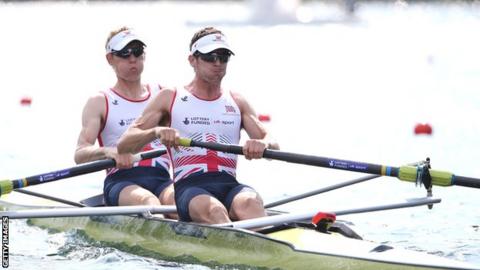 Scotland's Gavin Horsburgh led the British quadruple scull to a silver medal on the first day of the 2017 World Rowing Championship in Florida.
Horsburgh, Peter Chambers, Ed Fisher and Zak Lee-Green were edged out by France who clinched gold by just 0.17 seconds with Greece back in third.
It is 22-year-old Horsburgh's third medal in successive World Championships.
"We couldn't have asked for more," said Horsburgh.
"It's a fantastic feeling to win a medal but to also win Britain's first here."
The medal comes on the first of three days of finals in Sarasota-Bradenton, with British crews set to line up in 11 medal races over Saturday and Sunday.
Horsburgh had previously won gold in the 2015 junior Worlds and in last year's under-23 competition.
"We went out there three days on the trot and committed ourselves each time and showed our best form," said Horsburgh.
"It's my first senior Worlds and we set a high bar for ourselves and I wouldn't be sat here without three incredible teammates."
In the other A finals, there was a narrow fourth-place finish for Scotland's Sam Scrimgeour in the lightweight men's pair with Joel Cassells, who ended their championships just behind Brazil in the hunt for bronze.
Scots Maddie Arlett and Robyn Hart-Winks were part of the women's lightweight quadruple sculls which finished the A final in fifth as Italy, Australia and China claimed the medals.
In the day's earlier semi-finals, Glasgow's Angus Groom and Preston team-mate Graeme Thomas ended their final in fourth, just one place shy of an A final spot.
Groom and Thomas, competing for the first time at a senior regatta in more than a year following their return from injury, will contend the B final on Sunday.