World Rowing Championships: Zak Lee-Green and Rebecca Chin reach finals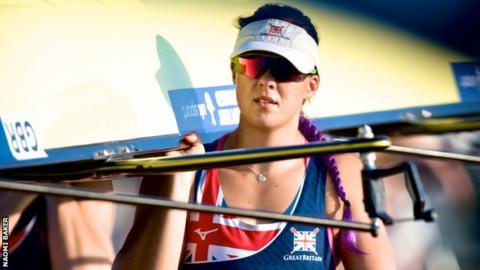 Welsh rower Zak Lee-Green will help Great Britain's quadruple sculls bid for gold on Friday at the World Championships in Florida.
Lee-Green, Peter Chambers, Gavin Horsburgh and Ed Fisher produced a superb third-quarter to win their semi-final on Thursday.
The crew overtook Japan and Greece to win by a length.
Another Welsh rower, Rebecca Chin, helped the women's eight reach their Sunday final via a repechage.
Chin and her fellow crew needed a top-four finish in Sarasota and it was achieved with Canada winning the race followed by the United States.
Lee-Green and his team-mates will be joined by France, Italy and Switzerland in Friday's final.
He said: "Winning the semi-final put us in good stead for a good performance in the final."
Two more Welsh rowers are also in action on Friday.
Graeme Thomas joins double sculls partner Angus Groom in their semi-final while Vicky Thornley goes in the single sculls semi-final.