World Rowing Championships: Rebecca Chin on overcoming Paralympic disappointment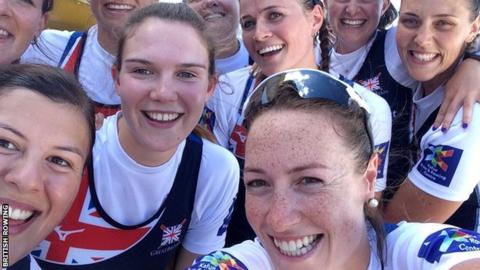 World Rowing Championships 2017
Venue: Sarasota, Florida Dates: 24 September - 1 October
BBC coverage: Sat 30 Sep: 15:00-17:30 BBC Two (live). Sun 1 Oct: 15:15-17:00 BBC Red Button (live). Mon 2 Oct: 14:00-15:35 BBC Two (highlights); 17:50 BBC Red Button (highlights).
Rebecca Chin was stripped of a silver medal in the discus at the 2008 Beijing Paralympics when judges said she was competing in the wrong disability category.
She was 16 at the time.
Nine years later she is competing in a final at the able-bodied World Rowing Championships in Sarasota, Florida (BBC Red Button, Sunday 15:15-17:00 BST) and dreaming of a place at the Tokyo 2020 Olympics.
She told BBC Sport how she turned a potential teenage trauma into motivation...
"It actually had the opposite effect - it made me so determined to go back there and get one that I can hold on to," Chin said of her Paralympic heartache.
After Beijing, a chance meeting with British rowers, including five-time Olympic medallist Dame Katherine Grainger, convinced Chin her future lay in a boat and she joined a local club.
In 2013, she got a medal - another silver - in GB's eight crew at the World Under-23 Rowing Championships in Austria. She kept hold of that one.
Two years later she won another silver in the women's four at the World Championships in Aiguebelette, France, her first major senior medal. Although she missed out on the 2016 Rio Olympics through illness, she has now stepped back into the 'Big Boat' for Sarasota.
"The eight is the boat I was going for pretty much as soon as I started rowing, so to have finally broken in there is really exciting," she added.
"I'm really enjoying it. It's such fun training and racing as part of such a big team. With a smaller boat it's great that you can form closer relationships with somebody, but it's good that you can chop and change - I quite like that."
Chin, 25, has hyperlax ankle ligaments, which cause her problems with standing and balance. That was what led to her competing in the Paralympics.
"Rowing is a seated sport so my balance isn't affected. I can just row as normal and have just a simpler life," she said, admitting her rowing technique is "somewhat unique - I'm trying to smooth it out to fit in with everybody else's and that is... coming along."
"But I decided to make the move into a sport where I just didn't have to worry about having a classification. I know that whatever results I get in the future will stand and that's important for me."
She remains upbeat about being bumped from that Beijing medal - in fact she only had 20 minutes of thinking she was a silver medallist before the officials gave her the bad news.
"I competed in the stadium and I had all of the Paralympic experience," she says. "Even though the outcome wasn't the one I expected or wanted to happen, the experience of the Games was still incredible."
"Things aren't always...straightforward in Paralympic sport."