World Rowing Championships: 'Fantastic' rowing by Thomas - Lee-Green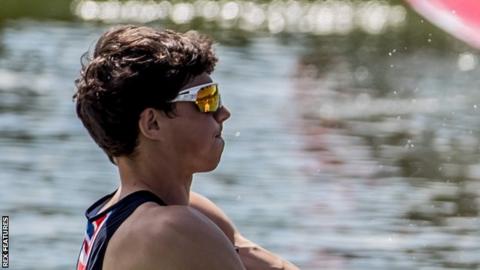 Welsh rower Zak Lee-Green has praised the performance of his countryman Graeme Thomas for Great Britain at the World Championships in Florida.
Thomas and men's double skulls partner Angus Groom beat European Champions Italy in their heat to reach Thursday's semi-finals in Sarasota, Florida.
"Graeme's double - that was a fantastic result," said Lee-Green.
Vicky Thornley won her single skulls heat and Lee-Green was in the quadruple skulls boat that also progressed.
He and his team-mates Peter Chambers, Gavin Horsburgh, and Edward Fisher finished second behind France in their heat in Sarasota, Florida.
"That's our first race together at any level and we've had to go out there and see where we're at," said Lee-Green.
"We're happy to have got a run down the track - I think it just calms the nerves a little."
Lee-Green said like Thomas and Groom, Welsh compatriot Victoria Thornley also impressed as she reached her Friday semi-final.
He added: "For Graeme and Angus to come here and take down the European champions - that's a pretty big thing to do.
"And the same for Victoria Thornley in the single skulls.
"Everyone will be quietly happy with how we've got on and we're ready now for the races as they get a bit tougher."