European Rowing Championships: Britain qualify for 11 medals finals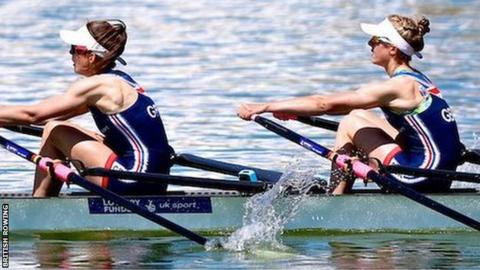 European Rowing Championships
Dates: 26-28 May Venue: Racice, Czech Republic Coverage: Live on BBC Red Button on Sunday 09:45 BST, highlights on BBC Two from 15:30-17:00 BST
Britain will have 11 boats in Sunday's medal finals at the European Rowing Championships in the Czech Republic.
Katherine Copeland and Emily Craig won the lightweight women's double sculls.
GB's Belgrade World Cup winners Will Fletcher and Peter Chambers were second behind Italy in their lightweight men's double sculls semi-final on Saturday.
Live coverage of the medal finals in Racice starts at 09:45 BST on Sunday on the BBC Red Button, with highlights on BBC Two from 15:30-17:00 BST.
Copeland and Craig easily won their race in seven minutes 20:59 seconds, with Poland second in 7:22.70