Helen Glover feels pressure of defending world rowing title
Last updated on .From the section Rowing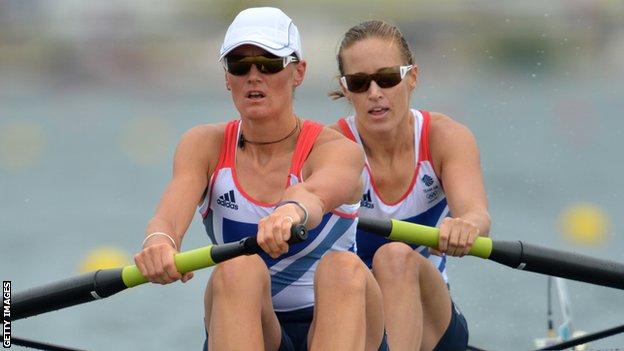 World Rowing Championships
Venue:
Amsterdam, Netherlands
Date:
24-31 August
Coverage:
Daily reports on the BBC Sport website, live coverage on BBC Two on Saturday 30 August 12:15-14:15 and Sunday 31 August 12:00-13:45
Helen Glover says she is feeling the pressure of defending a major title for the first time at next week's World Championships in Amsterdam.
Britain's and champion teams up with Heather Stanning as she aims to repeat her success in Chengdu in 2013.
"It's the first big title I've had to defend," Glover said.
"There's a little bit of pressure, but it I think it's important to feel the pressure," she told BBC Radio Cornwall.
"If you're going to define the season for us, when we look back at the 2014 season, it'll be 'we did this at the World Championships'," she added.
"In non-Olympic years it's the biggest event by far, it's a really big deal to have that to your name."
Glover and Stanning have resurrected their partnership from London 2012 after Stanning took a year off in 2013 to concentrate on her military career.
Glover and Polly Swann won the world title last year in Stanning's absence and the both women have rowed with Glover this season before Stanning managed to secure the spot alongside the Cornwall rower for the Worlds.
"It's going to be Heather's first chance since the Olympics [to win a world title] and I'd love the opportunity to keep my title so it's important and special to both of us.
"When we first came back together we realised it had been a long time since the Olympics. We needed to find our feet again and found that actually everything was really natural.
"That gave us the confidence over the last month or so away on training camp to not just let it be the same as it was - we've really worked on pushing it on.
"I feel we've moved on and made changes, looking to be a better crew than we were in 2012," Glover added.