Heather Stanning: Back in the boat; on top of the world?
By Lawrence Barretto
BBC Sport
Last updated on .From the section Rowing
Two years ago, Heather Stanning got the ball rolling for Great Britain as she and Helen Glover won the nation's first gold medal of the London 2012 Olympics in the women's pair.
While Glover would return to GB Rowing's base in Caversham a few months later to resume training, Stanning took a different path.
The 29-year-old Royal Artillery officer returned to her Army base in Wiltshire and began preparations for a six-month tour of Afghanistan, which she completed last summer.
In December, she got back in a boat with the aim of beginning her bid to retain the Olympic title in Rio in 2016 by winning gold at this week's World Championships in Amsterdam.
Stanning spoke to BBC Sport at key stages of her comeback, detailing her doubts about the decision, her struggle for form, a loss of confidence, return to winning ways and the quest for perfection.
Back in the boat - December 2013
"It was so hard, much harder than I thought."
Strong winds lash Lincolnshire's Boston Rowing Club on a chilly December morning as Britain's leading rowers prepare for a gruelling 5km winter time trial.
It is not a scene Stanning has been familiar with for more than a year - she has been training in 40C heat, amid sandstorms, at Camp Bastion in Helmand Province.
The distance, too, is not a kind one for a return, especially after just two weeks' training.
An Olympic-class race is 2km and Stanning usually has Glover for company but in Boston, it's a single scull boat and her only competition is the clock.
"I knew I wouldn't do well," Stanning says after a painful reintroduction. "And that was a horrible feeling. I hated it. In the single, you're all alone. It's very lonely. But I knew I had to get it done, out of the way."
Halfway into the race, with a hefty cross-headwind creating very bumpy conditions, Stanning ponders her decision to return.
"What have I got myself into?" she asks herself.
"All sorts of questions started to fill my head. Have I taken on too much? Can I do this anymore? Will I be able to get back to where I was?"
Stanning finishes 22nd, considerably off the pace.
Getting into the old routine - January 2014
"I openly admit that I love routine - I can't do without it."
It's early January at GB Rowing's HQ. There's a chill in the air, but the water of the River Thames is smooth. Having negotiated the worst part of her comeback, Stanning throws herself into training. She's feeling philosophical about her return.
"I need to not be too disappointed when I lose," she says. "I know where I am and where I will be - it is just going to take some time to get there."
Stanning was "crashing" after doing 3-4km on the water in her initial sessions but is soon back up to normal training levels and her form "is coming back quicker than I expected".
On average, Stanning covers 30-40km per day on the water, with weights and conditioning training in the gym on top of that. "It didn't take very long for the calluses to form on my hands," she smiles. "Do I regret my comeback? Oh yeah, all the time. In that first race, almost every stroke!"
Heather Stanning's daily food intake - between 3,500 and 4,000 calories

Breakfast

Cereal, yogurt and juice

Second breakfast

Eggs and beans on toast, smoothie and coffee

Lunch

Chicken and couscous salad

Afternoon snack

Tea and biscuits or yoghurt and fruit

Training snack

Protein shake to get some more protein and calories in

Dinner

Meat and vegetables, sometimes with pasta, followed by a dessert
As in her Army life, Stanning's workload is split into three sessions a day, seven days a week, with Wednesday and Sunday afternoons providing some welcome time off.
"Rowing life is very regimented, probably more so than anyone in the military," she says. "Training can get really monotonous. When I see my niece and nephew, I find I can really switch off. Kids are so good at making you forget about what you're doing.
"My family are great at coming down to see me from Scotland and I've got some really good friends in London who I know I can go and see and talk about anything other than rowing."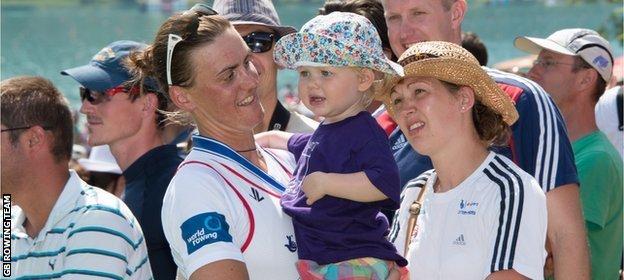 Return to competition - April 2014
"I came away thinking it wasn't good enough. We won - but I wasn't happy."
The phone rings. It's GB women's chief coach Paul Thompson. He's calling to deliver the good news that following analysis of the data gathered in training, Stanning is topping the charts for her stroke seat.
"I'm relieved," says Stanning, who will reunite with Glover for the first time since that race at London 2012. It also means Polly Swann, who won world gold with Glover in September, will have to make way.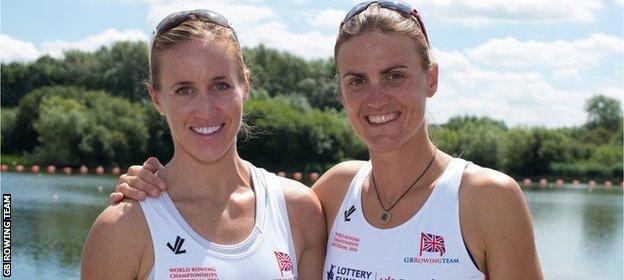 "It sounds weird, but we did miss each other last year," says Stanning. "Spending time apart, you find yourself wanting to share this with her or thinking she'll get this joke.
"It's so fun being back together. It feels normal that she's just ripping it out of me. Nothing has changed. I think I'm here purely for her comedy value."
The Glover-Stanning pairing is one that delivers success. Unbeaten together since they won silver in the 2011 World Championships, the duo were soon back into the routine as if Stanning "had never been away".
Heather Stanning's crew-mate Helen Glover
"What made rowing with Heather again so easy is that nothing has changed between us. We kept in contact while she was away and I think the close bond we have as friends as well as crew-mates is really important. I'm excited to have her back and excited about what we can achieve together."
Their first challenge is the senior GB trials, where a strong performance is necessary to prove they are the pair who should steer the team's lead boat this season.
They promptly deliver, taking victory at Caversham - but something is wrong. In the final phase of the race, where they are usually so strong, the pair ease up.
The setback - May 2014
"I realised something was wrong but I didn't want to admit it to myself."
Laying on the sofa in her Reading home, gazing up at the ceiling, Stanning ponders a situation that hasn't occurred during her eight-year rowing career. She isn't performing - and she doesn't know why.
"I was shattered after every race on the day of the trials," says Stanning. "That was on the back of a string of training sessions that had been up and down, which is very unlike me. It's really frustrating."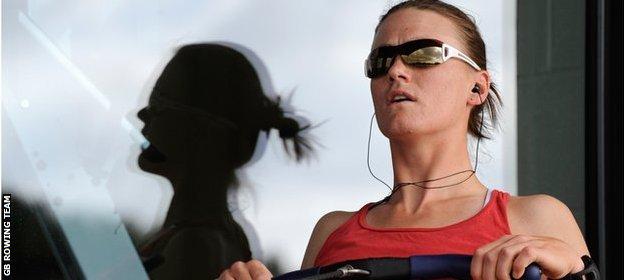 The trials were the first marker that Stanning was struggling. "It was definitely a case of: 'Oh what have I done, I've just thrown this away'," she says. "It was probably a week of denial, I didn't want to admit defeat. I felt it was a sign of weakness, that I couldn't cope with the programme."
GB women's chief coach Paul Thompson
"Heather puts a lot of pressure on herself to be where she wants to be. You need to take little steps and she was perhaps trying to take big jumps. Most of the time as a coach, you're trying to hold athletes back because you want to achieve a balance so it wasn't a major thing."
It turns out she has over-trained and GB Rowing chiefs choose to withdraw Stanning from the European Championships at the end of the month and significantly reduce her training.
She drops her training volume by 75% to 10-12km per day on the advice of the medical team and then begins building up again.
"It was tough not to go to the Euros - and basically admit defeat - but you have to be sensible about these things," she says. "The bigger picture was that I wanted to race at the World Championships."
That winning feeling - June 2014
"It felt quite natural, it felt like I was where I wanted to be."
It's June and Stanning has been training solo for nearly four weeks. She's holding an envelope. Inside it is a letter of confirmation that she has been selected for the World Cup regatta in Aiguebelette, France, alongside Glover.
Stanning knew this a few days previously, following a call from the performance director Sir David Tanner, but seeing the decision in writing made it real. The comeback was back on.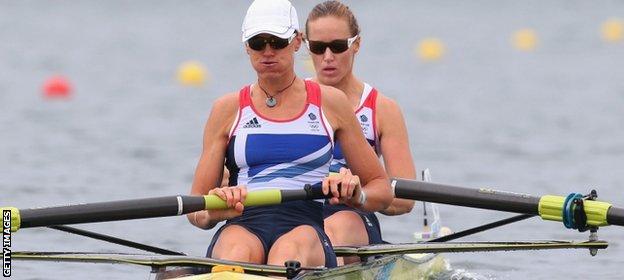 "I had a confidence shock when I showed signs of over-training," says Stanning. "So being named in the squad has given me a lot of confidence again.
"And the four weeks selfishly concentrating on myself, getting my boat skills back up and increasing the intensity has been great for my confidence as well.
"Hopefully in Aiguebelette, I'll do a performance which will do me justice."
Sitting on the start line, it was if she had never been away. "It felt quite natural," says Stanning. "It felt like it was where I wanted to be." Seven minutes later, she and Glover clinch gold.
More of the same dominance follows as they cruise to gold at the next World Cup meeting in Lucerne. Now it's time for the main event - August's World Championships in Amsterdam.
The search for perfection - August 2014
"Anything other than gold at the World Championships will be disappointing."
Flashback to the summer of 2013. Stanning is sitting on a fold-up chair in a tent in the middle of Camp Bastion, surrounded by her colleagues.
They are all focused on one thing - a small screen showing the British & Irish Lions rugby team playing Australia in a riveting Test series - and the atmosphere is intoxicating.
"We watched a lot of sport in our downtime," she says. "And I saw how excited the soldiers were watching live sport where people were doing what they do best. It made me really appreciate what I have got and the chances that I've had."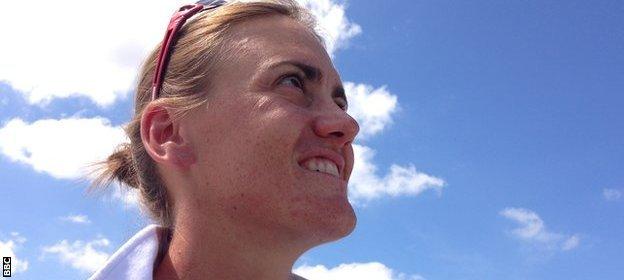 With that desire to be the best reignited, the goal of becoming world champion - something she has never done - moved to the front of her mind. "Trying to become world champion was one of the driving forces for me coming back."
Stanning and Glover are gold-medal favourites for Amsterdam, but Stanning admits she still has work to do.
"I'm almost a year behind Helen," she says. "The gap will close over time and by the end of the season, there is no reason why there will be any difference."
The World Championships will be an important staging post on her comeback journey, but not the end of it.
"We can only get better, we can go so much faster," says Stanning. "You can always be technically better.
"I don't think we have rowed the perfect stroke yet. Until then, we will continue our search for it. Once we find it, we will then want the perfect race - hopefully that will come at Rio. We will just keep digging - and see what we find."
World Rowing Championships
Venue:
Amsterdam, Netherlands;
Date:
24-31 August
Coverage:
Daily reports on the BBC Sport website, live coverage on BBC Two on Saturday 30 August 12:15-14:15 BST and Sunday 31 August 12:00-13:45