Polly Swann determined to hold onto seat as Stanning returns
By Lawrence Barretto
BBC Sport
Last updated on .From the section Rowing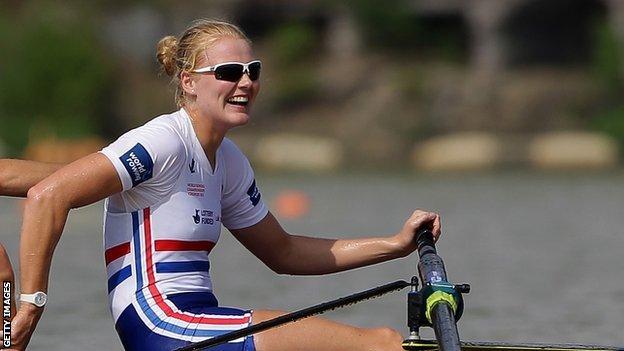 World champion Polly Swann says she is determined to keep her seat in the women's pair boat following the return of Olympic champion Heather Stanning.
In her absence, Swann teamed up with Glover, winning World Championship gold in September, two months before Stanning returned to rowing.
Swann told BBC Sport: "I'd like to stay in the pair and defend my seat there."
She added: "I want to win another World Championship title and that's what I'm looking to do.
"With Heather back now, it's going to be a challenge, but there are also quite a few girls coming up through the team, too."
Ever since Glover and Stanning won gold in the pair at the 2012 World Cup regatta in Belgrade, Britain has been unbeaten in that class.
Glover and Stanning won all three World Cups that year, ahead of Olympic gold in London, with Glover and Swann winning all three World Cups this season before winning World Championship gold in Korea.
As a result, the women's pair boat has naturally become the most sort after in rowing. With Stanning returning to the fold, the selectors now face a difficult decision.
Either an Olympic or world champion is going to miss out on a place in the boat which will be favourite for gold at the 2016 Olympics in Rio.
Swann, who missed the London Games with a back injury, was unfazed by the pressure of stepping into Stanning's seat alongside Glover.
They are unbeaten as a pair and it is that immediate success which has given Swann confidence in her abilities ahead of this Saturday's second winter assessment trials in Boston.
The trials are part of the process in determining the team which will compete in the World Cup regattas and World Championships during 2014.
"Winning world championship gold cemented the fact that I do have the ability to compete and win medals," said Swann.
"I've been successful so far, so if I keep pushing and progressing, I should in theory keep winning, so long as I don't get injured. That is really exciting for me.
Rowers will compete over a gruelling 5km course - the Olympic distance is 2km - in singles or pairs. They will compete in time trials under the watchful eye of performance director Sir David Tanner.
Stanning, along with Swann and Glover, will also contest the single in Boston, Lincolnshire.
While on tour in Afghanistan, Stanning completed two training sessions a day in the gym in a bid to stay in shape.
The 28-year-old only returned to training two weeks ago and is therefore not expecting to light up the timesheets on Saturday.
Stanning told BBC Sport: "I've not been training long enough so I'm not expecting to do particularly well.
"But it's just important for me to get on and do it and accept where I am. Then I've got something to build from.
"The goal is to be selected for the World Championships next year. Which boat that is, the selectors will have to decide. I just need to make sure I'm fit enough to get in the squad."
Glover wouldn't be drawn on talk of seat selection. "Until a few months into next year, we won't have any idea what boats we're in," she told BBC Sport. "Everything resets to zero and everyone has a chance."
In the men's event, Olympic and world champions Alex Gregory, Andy Triggs Hodge and Pete Reed will compete in pairs.
Gregory teams up with former world under 23 champion Mat Tarrant, Triggs Hodge lines up alongside Oliver Cook, while Reed partners James Foad.
Olympic bronze medallist Constantine Louloudis, who triumphed in the November winter assessment, partners Karl Hudspith in the pair while Alan Campbell, who won bronze in London, goes in the single.
In total, 148 boats will be in action on Saturday. Winter training continues through the festive period, though rowers will be released to spend Christmas with their families.
In the new year, the selectors will start to formulate crew partnerships with the final decision made after the senior team trials at the team's training base in Caversham in April.