Olympic champion Mark Hunter retires from rowing
Last updated on .From the section Rowing24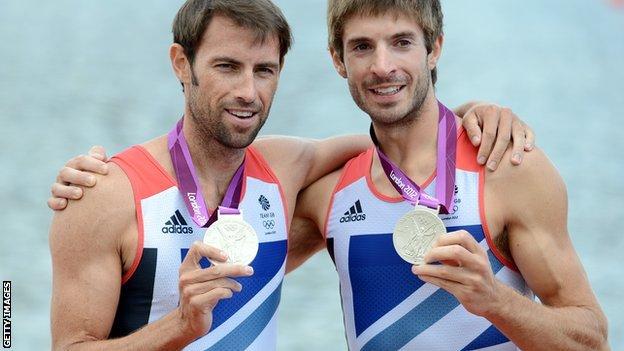 Olympic gold medallist Mark Hunter has announced his retirement from rowing.
The pair also won gold at the 2010 and 2011 World Championships.
"It's tough to officially end my rowing career, but I know I've gone as far as I can and now it's time to hang up my oars and look at new adventures," said Hunter.
"I really want to thank friends, coaches and sponsors who helped me capture my dream, but especially my family.
"The journey through all the celebrations and struggles wouldn't have been possible without the support of my parents, brother, and extended family.
"With the Henley Royal Regatta starting today, it seems like the perfect time and place to announce my retirement. It is the pinnacle of the British rowing calendar, taking place in Henley-on-Thames where I developed my skills and excelled with my club Leander."
Hunter (pictured on the left above) and Purchase first began racing together in 2007 and success came almost immediately as they won two silver medals and a bronze at the three World Cup events that year.
They also won bronze at the 2007 World Rowing Championships in Munich before taking their first Olympic gold in 2008.
Hunter was made an MBE in 2009 and was named Olympic Athlete of the Year for rowing in 2011 by the British Olympic Association.