Polly Swann: Helen Glover's partner uncertain of boat for Rio
Last updated on .From the section Rowing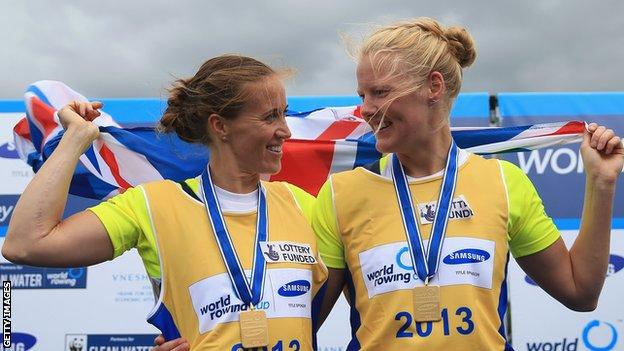 Polly Swann is unsure whether she will still be with Helen Glover in the women's pair for the 2016 Rio Olympics.
They have won two World Cup golds this year at Sydney and Eton Dorney.
Swann is unsure whether they will still be together for Rio and told BBC Radio Berkshire: "I'm going to put myself in any position to be the most successful.
"Whether that's in a pair with Helen or whether the pair's disbanded and made into a different boat, I'm happy to accept the challenge."
The 25-year-old was due to be in the women's eight at the London Olympics, but a back injury prevented her from competing.
However, with Glover's Olympic gold-winning partner Heather Stanning returning to the army, Lancaster-born Swann was chosen to move into the two-person boat.
At first she struggled to adjust to life working with an Olympic champion.
"A lot have people have asked whether there was loads of pressure, and when we started as a pair there was quite a shock to the system and I had a fast learning curve to step up to the level Helen was rowing at," she said.
"I learn so much from Helen on a day-to-day basis, we've gelled well together and I'm really enjoying the challenge."