World Cup Regatta: Northern Ireland rowers runners-up
Last updated on .From the section Rowing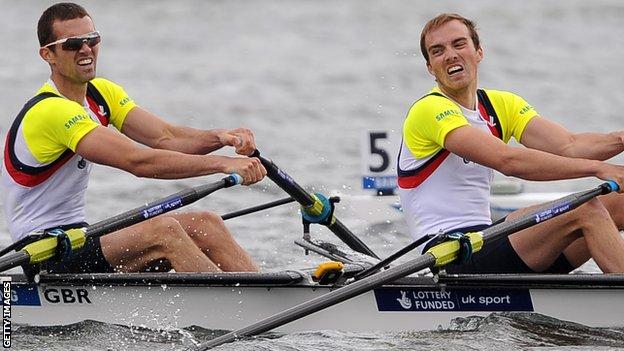 Coleraine rowers Richard and Peter Chambers and Alan Campbell had to settle for second places at Sunday's World Cup regatta at Eton Dorney.
The Chambers brothers, silver medallists in the lightweight four at the 2012 Olympics, were beaten by Poland in the final of the lightweight double sculls.
Campbell, who won bronze at London 2012, was runner-up behind Olympic silver medallist Ondrej Synek of the Czech Republic.
The Chambers brothers, in their first outing as a pair at international level, were fast off the start and held a length advantage at the halfway mark of the 2km course.
But in the final 500 metres the Polish duo Artur Mikolajczewski and Milosz Jankowski began to row them down and went ahead with around 100 metres left.
The Poles won in a time of 6:17.13 with the Chambers brothers just 1.13 seconds behind and Norway a mere five-hundredths of a second adrift in third.
It was a finish similar to the London 2012 lightweight four final at the same venue last summer when South Africa came through to pip the GB quartet that included the Chambers boys on the line.
"We fought as hard as we could from the beginning and showed what speed we had," said Richard Chambers.
"In the last 250 metres the wheels fell off and we lost out to the Poles.
"We are a pretty new combination and have a lot to learn."
Meanwhile Campbell, who had taken a long sabbatical after the Olympics, looked strong as he led the single sculls field through the 1500 metres mark.
In windy, choppy conditions, only the man who finished just ahead of him 11 months ago could row him down.
Synek recently won the European title and, after catching a blade early in the race, he managed to catch and overtake Campbell with around 250 metres remaining and went on to win in a time of 6:47.5 with Campbell holding on for silver, two seconds behind.
Campbell said he "went for it in difficult conditions, but just could not quite get on terms with Synek."
"I hit a bad wave near the end, which upset my rhythm a bit," added the single sculler.
Campbell and the Chambers brothers will head to Henley in a fortnight's time before the final World Cup regatta in Lucerne in July with the World Championships coming up in Korea at the end of August.