World Rowing Cup: Men's eight have 'lot of work to do'
Last updated on .From the section Rowing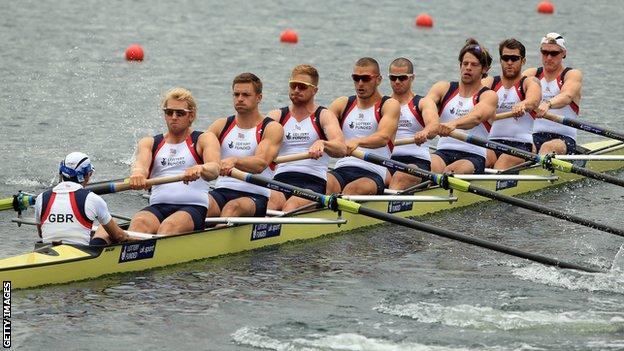 Olympic gold medallist Andy Triggs Hodge says the GB men's eight need to improve after a disappointing heat in the World Rowing Cup at Eton Dorney.
The eight finished third on Friday as 15 British crews progressed through to the various finals.
Hodge told BBC Sport: "We have got to look internally, focus on what we're doing but I didn't come to Dorney to finish second or third.
"We've got a lot of work to do to make sure we come away with something."
He continued: "The best champions come from the biggest losers so we've got to make sure we turn this around.
"We have to work out how we're going to improve that for the final on Sunday. And then how we can improve it for [further events in] Henley, then Lucerne and Korea.
"Maybe it is a bit of a wake-up call in some respects. But I know the work we've been putting in. We're not taking this lightly but an eight is something different - it's about what you do together in the water as a group."
Hodge, 34, who won gold in the men's four at Beijing 2008 and London 2012, admits rowing is a different challenge post-Olympics.
"It's a completely different perspective," he said. "Going towards London, it was a case of trying to keep the excitement down and keep it checked so you can do what you need to do.
"Now it's getting back into fitness. It's a very internal momentum you have to drive yourself. It's almost a different sport. A performance like that makes it all very real again - it's time to man up and get on with it."
Among the other British crews to progress at Eton Dorney were Olympic champion Helen Glover and partner Polly Swann in the women's pair, and the new-look quadruple scull of Peter Lambert, Sam Townsend, Charles Cousins and Graeme Thomas.
British rowing director Sir David Tanner said: "It has been a pretty good morning of racing. Our new rowers have stepped up and that was good to see.
"Overall for a first day we are at a good level. We have never had such an enthusiastic first day crowd at a World Cup."
Full results of Friday's qualifiers and heats are available on the Swiss Timing website.