World Cup Regatta: Coleraine rowers into Eton Dorney finals
Last updated on .From the section Rowing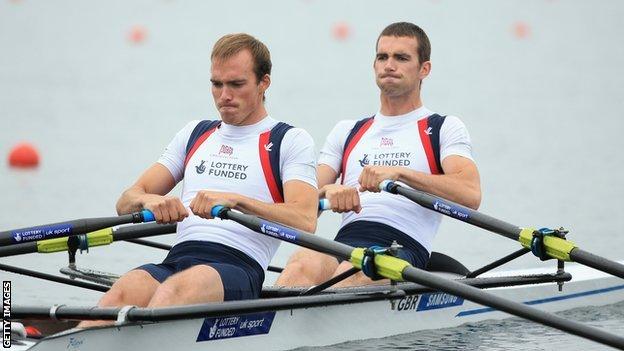 Coleraine's three Olympic medalists are safely through to the their respective finals at the World Cup regatta at Eton Dorney, the London 2012 Olympic venue.
In the men's lightweight double sculls brother Richard and Peter Chambers finished second behind Norwegian duo Kristoffer Brun and Are Strandli.
Alan Campbell was second in his single sculls semi-final, coming home behind Ondrej Synek from the Czech Republic.
Campbell is competing in his first international event since the Olympics.
It was London 2012 silver medalist Synek, recently crowned European champion, who led throughout winning in a time of 7:03.16 a length ahead of Olympic bronze medal winner Campbell, who sculled strongly in the second half of the race to overtake Kjetil Borch of Norway.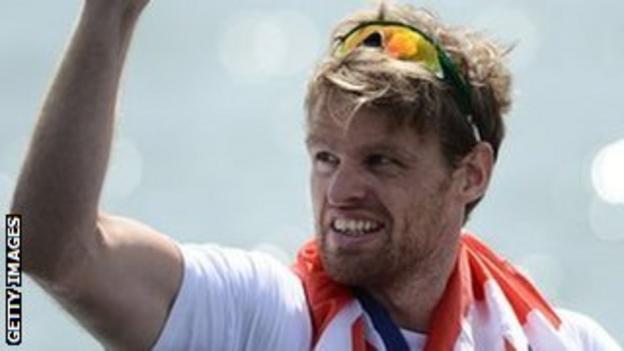 Campbell, along with Marcel Hacker of Germany, are expected to battle Synek for the medals on Sunday.
In choppy conditions whipped up by a strong crosswind the Chambers brothers trailed the recent European silver medalists by half a length at the 1000m mark and failed to close the gap with Norway winning in a time of 6:38.78, almost four seconds ahead of the Great Britain duo.
"We found the conditions tough and it was more of a mental than a physical battle. We were concentrating so hard on each stroke and not messing up that we forgot about the Norwegians on our left," said Richard.
But we've only been together for eight weeks and we're progressing well and we'll put it all out there in the final," explained the elder of the siblings.
Germany, Austria, Poland and the Netherlands complete the final line-up which means there will be three sets of brothers involved, the Chambers siblings for Great Britain, the Siebers from Austria and the Mudas from Holland.
Rowing for the first time as a twosome in international competition, the Chambers brothers had comfortably won their heat on Friday.
The duo cruised to victory in 6:29.86, over two seconds clear of the Netherlands crew.
Campbell also won his single sculls heat on Friday, leading from the front and then slowing up considerably in the second half of the race to finish in a time of 7:07.03, ahead of Israel's Oleg Gonorovski.