Olympic rowing champion Sophie Hosking retires
By Lawrence Barretto
BBC Sport
Last updated on .From the section Rowing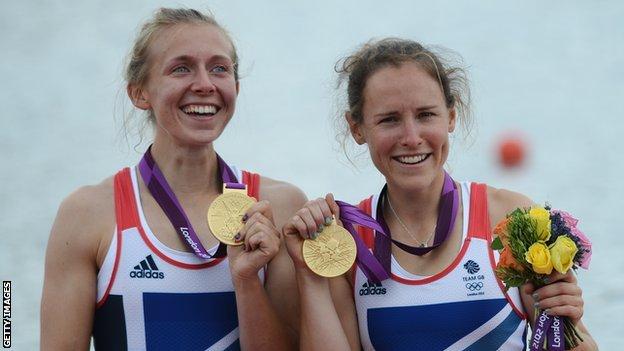 British Olympic champion Sophie Hosking has announced her retirement from professional rowing.
Hosking told BBC Sport: "I feel complete with all the things I have achieved in my rowing career.
"My retirement signifies the start of a new chapter in my life and I'm looking forward to the new challenge."
Hosking and Copeland provided the shock performance of the London Olympic regatta when they became the third female British boat to win gold.
The pair had only teamed up early in the season, and had failed to win a medal in two of the three World Cup regattas prior to the Olympics.
But on Dorney Lake, the duo progressed to the final as the fastest qualifiers before beating China in the final.
She added: "I got caught up in the post-Olympics excitement so it was very hard to have any time to think about my long-term future.
"So I went to Australia for three months during our winter and that gave me some time to reflect on what I had achieved and explore whether I had the same drive to keep on competing at the highest level. After much thought I decided to retire.
"I feel that I put all of myself into the sport over the past 12 years and I am very proud of the athlete I became and the results that I achieved.
"To ignore these emotions would mean continuing for all the wrong reasons and no longer embodying the athlete I strove to be."
The GB Rowing Team performed strongly in the Sydney World Cup earlier this year, winning four gold, one silver and two bronze medals, and despite watching as a spectator, Hosking added that the event didn't inspire her to get back into a boat.
"I've got a lot of friends in the team, so I watched the Sydney World Cup and cheered them on," she said. "But I didn't feel any desire to be out there racing and that was an indication to me that it was the right time to stop."
Hosking, who made her senior rowing debut in 2009 and is a former AFC Wimbledon ladies footballer, said she owed her success to coach Paul Reedy, his doubles partner Hester Goodsell and Copeland, her family and the GB rowing team.
Her focus will now switch to her career outside of rowing where she hopes to specialise as a solicitor.
"Earlier this year I secured a training contract and I start studying in September to convert my science undergrad degree to law," she said.
"Law is so wide-reaching among many different industries that I am hoping to be able to use my scientific background when I start to specialise as a solicitor."
Hosking's doubles partner Copeland intends to defend her Olympic title in Rio 2016, as does Helen Glover, who won gold with Heather Stanning in the women's pair. Stanning hopes to return to the sport next season having completed a year away with the army.
Katherine Grainger and Anna Watkins, who won gold in the women's double, have yet to announce their plans.