Sark to Jersey 2013: Exmouth crews set for rowing challenge
Last updated on .From the section Rowing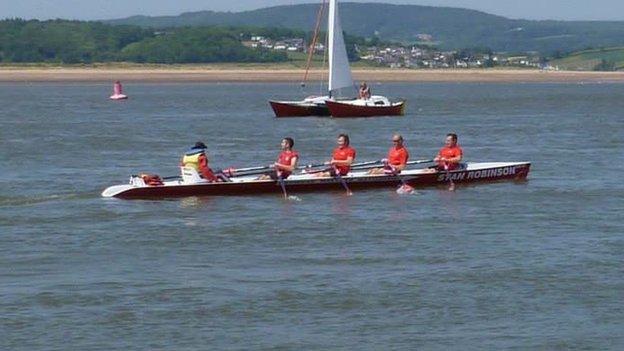 A pair of fours boats from Exmouth Rowing Club in Devon will provide competition for Channel Islands crews in the Sark to Jersey rowing race.
Organisers say they are the first UK crews for "several years" to compete in the event, last year because of conditions at sea.
for the race from Dixcart Bay to Bonne Nuit on Saturday 22 June.
Exmouth cox Les Norcliffe said: "We're looking forward to visiting Jersey."
He continued: "The ladies crew is based on a long-standing and greatly extended squad that has engaged in a wide range of races, including a number of FISA World Championship events in San Remo, Istanbul and Bari.
"Two of the crew maintain a world ranking of 9th."
The most direct route covers over 16 miles, but some crews can row a longer distance by choosing different lines or being blown slightly off course.
Race co-ordinator Clive Russell said they were anticipating a "hugely exciting" event this year.
"It's a big tide of 35 foot and if conditions are right on the day, we can expect records to be broken in several classes," he said.
"Coastal rowing is enjoying a post-Olympic boom in Jersey this year. Several new rowers claim they were inspired by Team GB's performance in the sport last summer.
"It's fantastic to be able to welcome competitors from the UK and there is every reason to expect this trend to continue, especially with out 50th anniversary looming in a couple of years time."