Andy Triggs Hodge: Rio 2016 Olympic Games the target
By Lawrence Barretto
BBC Sport
Last updated on .From the section Rowing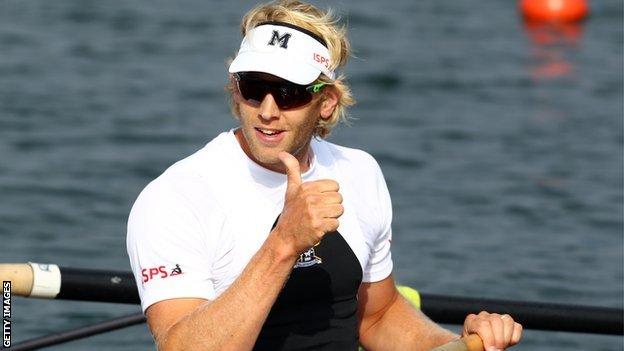 Two-time Olympic champion Andy Triggs Hodge says he is committed to rowing and wants to win a third successive gold medal at Rio 2016.
But the results of tests with his Great Britain team-mates on and off the water have persuaded him to continue.
Hodge told BBC Sport: "I'm still top on stroke side; I feel like I've proved my worth in the team."
Hodge is one of Britain's most successful rowers, winning Olympic gold in the men's four at Beijing 2008 and London 2012 along with two World Championship golds.
After last summer's Games, he took a break to finally go on his honeymoon two years after marrying former Dutch rower Eeke, who is now pregnant with his first child, and mull over other opportunities.
But in December, he returned to rowing and is now targeting the next Olympics.
He said: "When I got back in a boat, I realised I still loved training. If you don't love training, you can't aim for a gold medal. But I'm back and I'm still enjoying it. If I wasn't planning on winning gold in Rio, I wouldn't be here."
While Hodge admits that three months off was "probably too much" as it made returning to training harder, he is improving his fitness all the time and his results suggest he has lost none of his pace.
Hodge won the GB trials along with Moe Sbihi in the men's pair and was part of a new-look men's eight that won gold in the season-opening World Cup in Sydney.
But he is aware that there is a young, hungry wave of rowers challenging for a place in the Great Britain team and he needs to keep working hard.
"I've achieved a certain standard in my training and I don't want it to drop off," said Hodge, who was named in the men's eight for the World Cup regatta on home water at Eton Dorney on 21-23 June.
"If I ever felt like I was being carried by others or I wasn't pulling my weight, I hope I'd have the grace to step out.
"There are some big ergo (indoor rowing machines) results from the guys and they're going to be tough to beat so if I'm going to do this seriously, I've got to step on."
You can watch live coverage of finals day from the World Cup at Eton Dorney on BBC Two from 11:30 BST on 23 June.