Helen Glover feels Eton Dorney World Cup pressure
Last updated on .From the section Rowing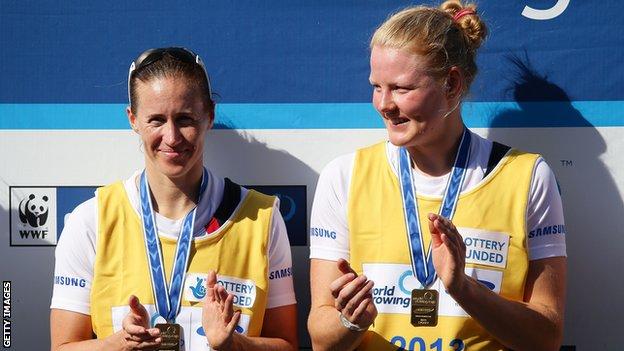 Olympic rowing champion Helen Glover says she feels under pressure to win following her success at London 2012.
It is her first international race in Britain with new partner Polly Swann.
"To go back after winning Olympic gold, you put yourself in a position where you can only keep winning," she told BBC Radio Cornwall.
"In terms of motivation, it comes partly from the expectation on me."
in March.
But the 26-year-old from Penzance in Cornwall feels it is too early to know if they will repeat last year's clean sweep in the competition with former partner Heather Stanning.
"I'm setting my sights high but realistic for this year, but those goals will be firmed up in the next few weeks when we get some racing," she said.
"If we get really strong competition from several other countries then medalling at the World Championships in South Korea at the end of the summer would be a great goal.
"But if we manage to get gold at Eton Dorney and Lucerne then becoming Commonwealth champion would be my goal."
after and says the new partnership is going well.
"Polly is a lot more like me," she said.
"Heather and I were quite opposite in the way we acted, although we were the best of friends, she was a lot more within herself, always in control and always quietly confident.
"I work quite hard so Polly doesn't feel like Heather's substitute as she's earned that seat in her own right.
"I definitely don't want her to feel there's any pressure on her shoulders, it's definitely a joint effort."