GB Rowing: James Foad back to face new challenge
Last updated on .From the section Rowing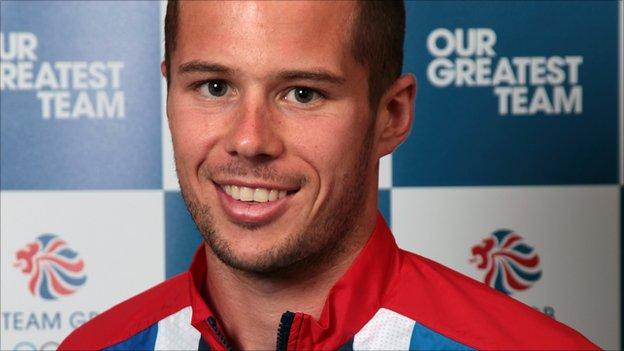 Olympic bronze medallist James Foad says he is relishing his new challenge having returned from injury to take his men's pair place for the World Cup regatta at Eton Dorney on 21-23 June.
And following his return he now finds himself partnering Matthew Gotrel.
"I'd love to be in the eight, but it's great to be in a pair with one of the new guys," Foad told BBC South.
Foad, from Southampton, and Gotrel will be up against two other pairs at the event with the leading boat likely to be in pole position to represent Great Britain at the World Championships.
And Foad, who says he is not fully recovered from injury, is looking forward to the clash.
"The pair that comes out on top is the pair that will likely go on to the World Championships, we've not raced them before so we'll see who comes out on top," he said.
"I'm really looking forward to going to Dorney and racing in front of a home crowd. I doubt it'll be the same as the Olympics but it'll still be exciting."
Foad added: "The back's doing really well and I'm pleased to come through the rehab process.
"I've had no major issues with it. It's been nice to finish my training and walk around with no pain at all.
"I'm not back up to 100% fitness wise, I'm getting there but I've just had another season's best on the ergo and that is coming on every week.
"It's good to work with him (Gotrel) and help one of the new guys coming through.
"It's slightly different, because you're 50% of the boat, so you're doing 50% of the work and there are different dynamics. We tried it both ways with Matt as stroke and me as stroke, and we'll probably persist with me."
Meanwhile, Caragh McMurtry has been named in the women's quad skulls as the 21-year-old from Southampton makes the step up to the senior squad.
And McMurtry says she already has her sights set on the Rio Olympics in 2016 having overcome illness to win a place in the squad.
"It's really exciting, it's what I've been working towards for some time so I'm really happy to be here," McMurtry told BBC South Today.
"I was ill through over-training, I was in the depths of my illness and I've made a really good recovery. That's why it's even more surprising and I'm even more happy to be here.
"The quicker I get back, the quicker I can maybe get two World Cups under my belt and get into the best boat possible for the World Championships.
"It's a pretty big jump but we set ourselves up as a top under-23 crew and went to the senior Europeans also.
"Everyone's looking forward to Rio and we have to put London behind us. We've got new goals now and we have three years to build on that."
You can watch live coverage of finals day from the World Cup at Eton Dorney on BBC Two from 1130 BST on 23 June.