GB name four Olympic champions in rowing squad for Eton Dorney
By Lawrence Barretto
BBC Sport
Last updated on .From the section Rowing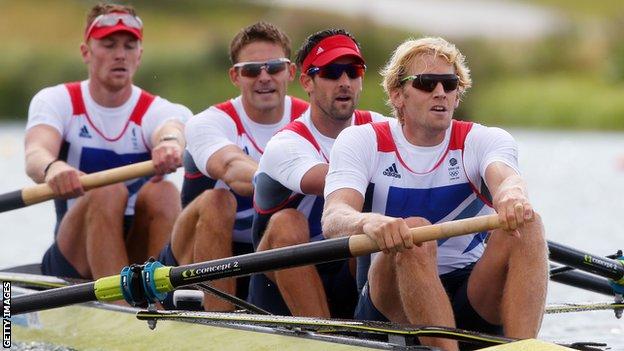 Great Britain have named 14 Olympic medallists in their biggest ever World Cup squad for the regatta at Eton Dorney from 21-23 June.
A team of 81 rowers will return to the venue where Britain won nine medals, including three golds, at London 2012.
Olympic men's four champions Pete Reed, Andy Triggs Hodge and Alex Gregory will feature in the men's eight.
Helen Glover, who won gold in the women's pair with Heather Stanning, will race with new partner Polly Swann.
A typical World Cup squad would feature 60 rowers, while British Rowing only sent a 43-strong team to Sydney in March. The expanded team is intended to take advantage of returning to home soil and to blood emerging stars in a competitive environment.
Great Britain will be represented in 29 boats for the second World Cup regatta of the season. Despite the presence of experienced rowers in the squad, GB performance director Sir David Tanner has described this season as "transitional".
However, Britain still managed to win four gold medals, a silver and two bronzes from 14 crews at the opening World Cup in Sydney.
Tanner said: "We will have a big crowd at Eton Dorney on all three days and it will be a good opportunity to give our emerging and under-23 crews the chance to taste the intensity of World Cup racing alongside our more established and experienced stars."
Britain's flagship boat will be the men's eight, where Tom Ransley, Dan Ritchie, Will Satch, Moe Sbihi, Olly Cook and cox Phelan Hill join Reed, Gregory and Triggs Hodge.
The team are in excellent form, having won gold in Sydney in March and also taking victory at the Essen Regatta last month.
Gregory told BBC Sport: "The German men's eight are definitely the leading crew in that class at the moment, but I think we have the quality to beat them at Dorney. There is no pressure on us and we've got nothing to lose so we can go out and give it our best shot."
The quadruple scull has been given an overhaul, with Graeme Thomas and Peter Lambert joining Olympic finalists Sam Townsend and Charles Cousins, the latter of whom took a shock single sculls victory at the GB trials in April.
Single sculler Alan Campbell returns to Eton Dorney, having won Olympic bronze on the same water last summer, while former men's four world champion Matt Langridge teams up with Bill Lucas in the double.
Glover continues her season with new partner Swann in the women's pair. The duo won gold at the Sydney World Cup in March, with Glover's Olympic partner Stanning taking a year out from the sport to resume her career with the army.
Glover told BBC Sport: "I'm so excited about returning to Eton Dorney but I'm prepared for it to feel quite strange as the last time I was there, I became Olympic champion.
"Polly and I won gold at the Sydney World Cup, but I think there will be much stronger crews at Eton Dorney so we'll need to keep pushing and developing as a partnership."
You can watch live coverage of finals day for the World Cup at Eton Dorney on BBC Two from 1130 BST on 23 June.