Mark Hunter: Encouraging Rowing World Cup for development team

By Mark Hunter
Olympic gold and silver medallist
Last updated on .From the section Rowing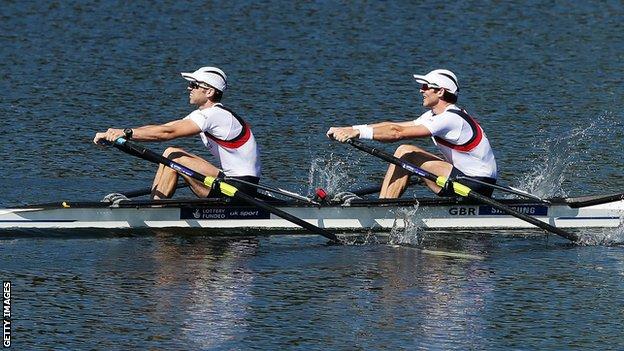 The first World Cup since the Olympics took place in Lake Penrith in Sydney this weekend - the venue where 13 years ago.
This time Great Britain sent a development team as well as some experienced athletes so it was a good mixture of youth and experience. A lot of the boats were mixed because some people had taken time out or retired.
Our first gold medal came from She was with Heather Stanning then but this time she was accompanied by a young athlete called Polly Swann.
As Helen did last year, she led from start to finish and that's an example of someone that has experience and someone who is new. They dominated the field.
In my eyes Helen is the iconic figure of watching the Olympics and she will be able to compete four years later. She inspires so many people.
and that is obviously my event and it was great to see the continued success with two new guys.
Richard Chambers, who won silver in the lightweight four last year, actually hates being in a sculling boat. He hates being in the stroke seat as well. He just does not enjoy it.
It's one of those things where he hates it but is good at it, he's one of those people.
He spends 90% of his time in sculling boats and will be training full time because that's the discipline he's been put in. He's been doing 28-34 hours a week, rowing 180-200 kilometres just for the rewards. That's a combination of rowing and weight training.
Adam Freeman-Pask was the spare man for the Olympics last year and is a very talented athlete. If he had been in any other team last year he would have been racing at the Olympics, it's just we had so much depth and talent there was no place for him. It's an exciting new combination and I'm looking forward to seeing their progress.
The men's quad is an event we've never won a gold medal before in the World Cup, World Championships or Olympics so it was a great start by Sam Townsend, Charles Cousins, Graeme Thomas and Bill Lucas to win in Sydney.
but did not get a medal due to the slightly unfair conditions at Dorney. They had one of the bad lanes and had crosswinds.
What they did this time was great. They normally get left behind after 500 metres but they got out quickly and led from start to finish.
The men's eight was the big anticipated event where coach Jurgen Grobler has put the top guys that are left in the team in an eight.
They did not have much competition but did what they had to. We had three Olympic champions Andy Triggs Hodge, Pete Reed and Alex Gregory and had three bronze medallists Tom Ransley, Moe Sbihi and the cox Phelan Hill.
It's like the cycling team at the world championships in Belarus a couple of weeks ago. You are looking to see whether these heavily funded sports are putting things in place for the future. It's about making sure there is a legacy and successful sports are not just one-hit wonders.
We have seen encouraging performances but it is very early in the season. There are a lot more nations coming into the equation which will make it much more intense so we should not get carried away just yet.
Mark Hunter was talking to BBC Sport's Frank Keogh.