Rowing World Cup: More British crews reach finals
Last updated on .From the section Rowing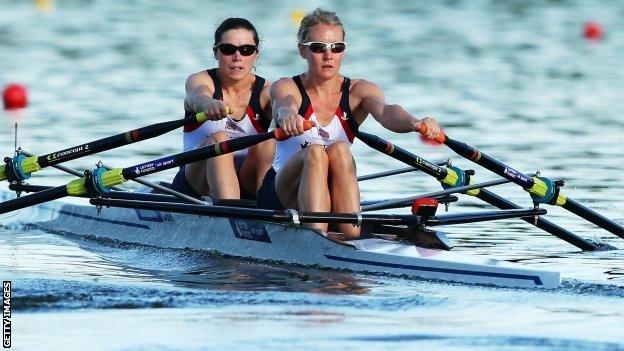 Four more British crews reached Sunday's World Cup finals after safely making it through the repechage rounds.
New women's lightweight doubles pairing Kathryn Twyman and Imogen Walsh won in style from hosts Australia, while Beth Rodford and Wales' Victoria Thornley beat China in the open weight category.
Katie Greves and Jess Eddie (pairs) and the women's quadruple scull team also went through at Penrith Rowing Lakes.
Britain will now compete in 12 out of the 14 Olympic class events in Sydney.
In Saturday's finals, Britain's Ruth Walczak and Jamie Kirkwood took fourth and fifth places in their respective lightweight single scull finals.
The World Cup debutants were both in contention for the first 1300m before slipping back off the pace over the last 700m stretch of water.
South Korea, who host the world championships in August, saw Ji Yoo Jin claim silver behind Canadian winner Jaclyn Halko in the women's race.
The men's final was won by New Zealand's Duncan Grant from German Matthias Schoemann-Fink and South Korea's Lee Hakbeom.
In the repechage rounds, Twyman and Walsh were in impressive form and led from the first stroke.
Their Australian coach, Paul Reedie, gave them instructions to keep the pressure on until the final stroke, and his crew duly obliged, heading Australia by over six seconds.
Rodford and Thornley in the open weight double had to battle through a tight race to beat the strong Chinese and American crews.
But they went through to join their team-mates, Frances Houghton and Victoria Meyer-Lake, in the final.
The exertions of competing in the women's eight took their toll on Greves and Eddie, whose last-minute charge was not quite enough to reel in Australia in the pairs.
But the duo did enough to join Polly Swann and Olympic champion Helen Glover in Sunday's final.