Rowing: Charles Cousins sets sights on quad sculls medal in Rio
Last updated on .From the section Rowing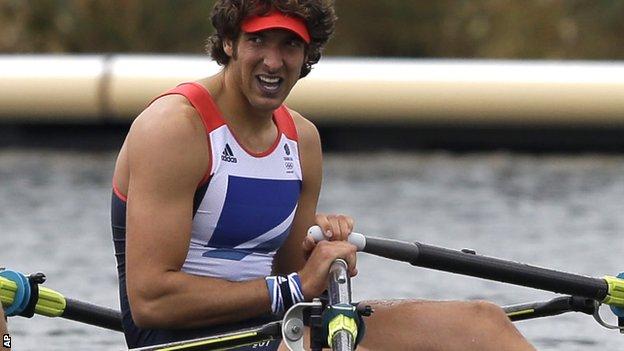 Cambridge's Charles Cousins is determined to be part of Britain's rowing medals party at the 2016 Olympics in Rio de Janeiro.
The 23-year-old was a member of the quadruple sculls crew that came fifth in their final at London 2012.
They were the first GB men's quad in the final - a "brilliant achievement in itself", according to Cousins.
"If we carry on the good work, keep chipping away at it, we might pick up a nice shiny medal in Rio," he said.
Team GB dominated the rowing competition at London 2012, collecting four golds, two silvers and three bronzes.
And although Cousins and crew-mates Stephen Rowbotham, Tom Solesbury and Matthew Wells could not put their names on the roster of success, clocking a time of five minutes 49.19 seconds behind winners Germany, he insisted they had not let themselves down.
"Obviously we're a bit disappointed not to pick up a medal and that feeling is maybe exaggerated by the fact that quite a lot of the other team members did pick up medals, but I'm still proud of our performance and how we performed in the final," Cousins told BBC Radio Cambridgeshire.
So determined are Britain's rowers to make an even bigger impact in Brazil in four years' time, they will only be taking a two-week break before returning to the water.
"On the first of October, the whole team will meet up at our training base and start plugging away, getting ready for Rio," said Cousins.
"We start training around seven am and finish between two and four (pm) depending on how many sessions we're doing, so it is pretty full time - rowing is a lot of training."
Cousins said competing in front of 30,000 people was the main memory he would take away from the London Games.
"Normally at a world championships you get maybe two or three thousand, but to have 30,000 people turn up to watch you row - when you're warming up and paddling up to the start, there's no end of cheers - just gives you a massive boost.
"We're not going to experience that ever again," he added.