The Boat Race 2012: Cambridge outweigh rivals Oxford
Last updated on .From the section Rowing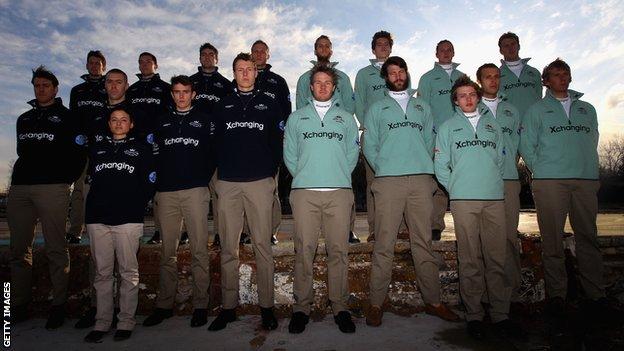 Cambridge have weighed in a massive 62.8kg heavier than Oxford for the 158th Boat Race on Saturday, 7 April.
Last year's winners Oxford, lighter for the second consecutive year, will concede on average 7.9kg per oarsman when they take to the River Thames.
And the Light Blues also boast the heavier cox, with Ed Bosson carrying 6kg more than Zoe de Toledo.
Cambridge lead Oxford by 80 victories to 76 in the 183-year-old event, but have lost seven of the last 10 races.
A heavier boat is often deemed an advantage in the annual Varsity battle, but Oxford defied that logic last year when they secured a comfortable four-length success over their heavier opponents.
The crews for both teams were also confirmed at the formal weigh-in for the 2012 race, which was held in London's Olympic Park.
Karl Hudspith, at five, is the only returnee from last year's Dark Blue line-up, while David Nelson and Mike Thorp remain for Cambridge.
Official crews for the 158th Boat Race
Cambridge: Bow - Moritz Schramm (91.8kg), 2 - Jack Lindeman (94.6kg), 3 - Mike Thorp (91.8kg), 4 - David Nelson (92.8kg), 5 - Alexander Scharp (95.6kg), 6 - Steve Dudek (109.6kg), 7 - Alex Ross (102kg), Stroke - Niles Garratt (92.2kg), Cox - Ed Bosson (55.6kg)
Oxford: Bow - Alexander Woods (77.8kg), 2 - William Zeng (82.4kg), 3 - Kevin Baum (91.6kg), 4 - Hanno Wienhausen (93.6kg), 5 - Karl Hudspith (91.2kg), 6 - Alex Davidson (94.6kg), 7 - Dan Harvey (79.6kg), Stroke - Roel Haen (96.8kg), Cox - Zoe de Toledo (49.6kg)