Women's Boat Race set for men's course from 2015
Last updated on .From the section Rowing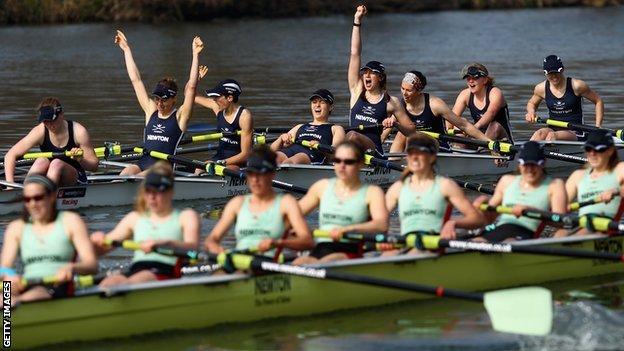 The Women's Boat Race is to be staged on the same course and day as the men's competition from 2015.
Since 1927, the women's event has been held on the River Thames at Henley.
But from 2015 it will take place on the men's 4¼-mile course between Putney and Mortlake on the Thames.
Both events will be held on the same day, with the women's competition taking place before the men's. Organisers believe the move would send a message about equality in sport.
It is understood that a new sponsorship deal, which will be announced at a press conference on Wednesday, will allow the universities to run first class crews in both the men's and women's races.
Traditionally the Women's Boat Race takes place the week before the men's event. Last year, Oxford beat Cambridge by a length to win.
Oxford also hold the men's event after winning the 157th Boat Race last year, dominating Cambridge to win by four lengths on the stretch of the Thames known as The Tideway.
The Boat Race, which will be screened on the BBC1, takes place on Saturday April 7 from 1415 GMT.