Sir Steve Redgrave's course records beaten at Henley
Last updated on .From the section Rowing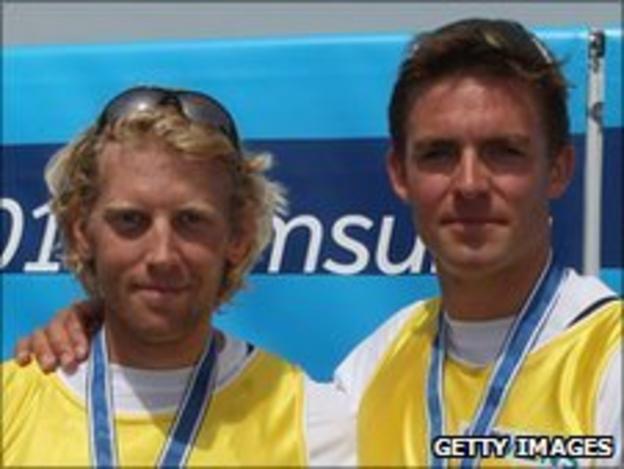 Great Britain rowing crews have beaten a long-standing course record and other times set by Sir Steve Redgrave during the Henley Royal Regatta.
Matt Wells and Marcus Bateman beat the course record for the double sculls Redgrave set with Adam Clift in 1982.
The pair also bettered the Redgrave crew's split time of one minute 58 seconds to the Barrier by two seconds.
Pete Reed and Andrew Triggs Hodge also beat a 1:58 pairs split set by Redgrave and Matthew Pinsent by two seconds.
Both crews were racing in quarter-finals of head-to-head knockout competitions.
Wells and Bateman, racing in Leander Club colours, triumphed over an international lightweight crew from China on the way to bettering Redgrave and Clift's record.
"It is very nice to get Steve Redgrave's record, we chatted to him and he said he was surprised we didn't do it sooner," said Bateman.
Reed and Triggs Hodge, Olympic gold medal winners in the men's four, beat father-and-son team Neil and Stuart West to break the record held by Redgrave and Pinsent, who was acting as umpire.
"They've held that record for 18 years and it is testament to their training in an era when there wasn't the [GB training] centre at Caversham," said Triggs Hodge.
"It is a bit of a shame to break the record as it stood as a shining light despite the lack of investment in the sport at the time.
"We're really proud to have broken it and it is a testament to the sport moving on."
The Great Britain men's four team also broke both the Barrier and overall course records in the Stewards' Challenge Cup.