Andrew Triggs Hodge and Pete Reed win pairs at GB trial
Last updated on .From the section Rowing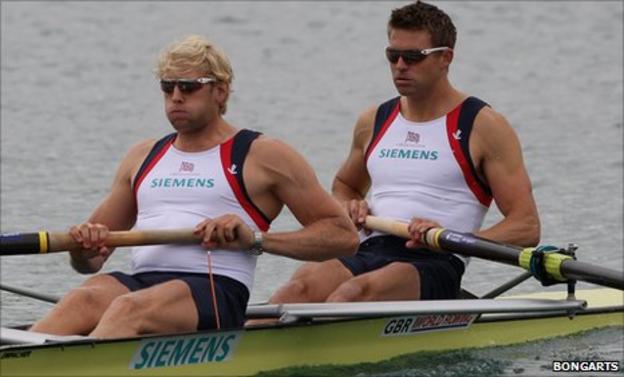 Andrew Triggs Hodge and Pete Reed secured victory in the men's pairs at the Great Britain trials over the London Olympics course at Eton-Dorney.
Returning Olympic gold medallist Tom James and crew-mate Alex Gregory led for much of the race but were gradually overhauled in the closing stages.
Cameron Nichol and 1992 Olympic gold medallist Greg Searle finished third.
Anna Watkins won the women's single scull to end Katherine Grainger's winning streak of six previous titles.
Watkins and Grainger were voted international crew of the year as a pair after dominating the World Cup season and winning gold at the World Championships, and Watkins is keen to reunite the partnership.
"Whilst it's nice to win, I don't really like to race against Katherine, I would far rather be in a boat with her against the rest of the world," said the Staffordshire rower after her victory in seven minutes 37.01 seconds.
World quadruple scull champion Beth Rodford was third.
James took a year away from the sport after the Beijing Games and was injured for much of 2010 but had looked set to cause a surprise against the strong favourites with his new crew-mate.
But Reed ensured a seventh successive victory in the event, with Hodge securing his fifth success from the past six races.
Having lost to New Zealand by 0.32 seconds in last year's World Championship final, Reed is determined to turn the tables in partnership with Hodge in the forthcoming World Cup campaign, although British coach Jurgen Grobbler has yet to confirm the pair's selection.
"I want to be a world champion in this pair," Reed said. "The New Zealanders have been rivals for a long time. There is a bit of history there. I want to be the best pair in the world.
"We had a big, big test here. We knew we would have to hold our nerve and we did that. Interesting things will happen in the coming weeks and months. Jurgen has some decisions to make.
"We are still the fastest pair in a very strong nation and I think we can move on as well if we do stay in a pair. If we can get the best out of ourselves we will be a force to be reckoned with."
Gloucestershire's Olympic gold medallist Zac Purchase captured the lightweight men's single scull, leading from the start and controlling the race.
Rob Williams took second after a surge in the second half of the race, with Adam Freeman Pask in third.
Helen Glover and Heather Stanning were similarly dominant in the women's pair final.
The world silver medallists had an advantage of more than two lengths over the field by the halfway stage and went on to win in 7:15.27.
The BBC will have live coverage of the World Cup event in Munich next month.
Sunday, 29 May - Red Button 10:00-13:15 (live coverage).
Monday, 30 May - BBC2 13:00-14:30 (highlights programme).
Also news reports on Five Live and BBC Sport website.