Tokyo Olympics: Britain's Georgia Taylor-Brown wins silver in women's triathlon
Last updated on .From the section Olympics
Tokyo Olympic Games on the BBC
Dates:
23 July-8 August
Time in Tokyo:
BST +8
Coverage:
Watch live on BBC TV, BBC iPlayer, BBC Red Button and online; Listen on BBC Radio 5 Live, Sports Extra and Sounds; live text and video clips on BBC Sport website and app.
Great Britain's Georgia Taylor-Brown produced a superb run to earn an Olympic silver medal in the women's triathlon, then revealed she almost missed the Tokyo Games after a leg injury left her on crutches just 12 weeks ago.
Taylor-Brown, who had to prove she was fit enough to compete a week before flying out to Japan, responded by winning a medal after fighting back from a bike puncture which left her well adrift of the leaders.
The 27-year-old was 22 seconds behind a four-woman pack - which included British team-mate Jessica Learmonth - going into the final leg.
But the 2020 world champion moved past Learmonth, who ended up finishing ninth, Germany's Laura Lindemann and American Katie Zaferes to earn a place on the podium.
Taylor-Brown, who had not raced since September, said proving her fitness was "probably more stressful" than Tuesday's race.
"It could have been taken away from me, but I proved that I was fit, I was ready to go, I did more than they asked me to do," she said.
Bermuda's Flora Duffy claimed a historic first gold medal for her nation after taking control of the race - which started in wet and wild conditions - with a dominant run.
The 33-year-old, who rejected the chance to represent Britain as a teenager, finished one minute and 15 seconds ahead of Taylor-Brown.
"It is an incredible, special moment. I crossed the line today but I did it for everyone in Bermuda," said Duffy.
Zaferes, 32, won bronze as she finished more than a minute ahead of the rest of the field.
Vicky Holland, Britain's third hopeful in the event, finished 13th after recovering from a crash on her bike.
Taylor-Brown's gutsy recovery means Britain have their second triathlon medal of the Games, following Alex Yee's silver in a punishing men's triathlon on Monday.
Taylor-Brown was congratulated by her British team-mates in the post-race interview, with both Learmonth and Holland telling her how proud they were of her achievement.
Taylor-Brown's hopes looked to be dashed when she suffered a flat back tyre less than a kilometre away from the end of the 40km bike ride.
Afterwards, she said she "panicked" when the incident happened.
"I didn't know what to do, so I just rode out on the flat. It was panic mode but it paid off," she told BBC Sport.
How medallists overcame adversity to win Olympic medals
All three medallists warmly congratulated each other beyond the finishing line, with each athlete appreciating the travails the others had faced on their respective journeys to the Olympic podium.
As Duffy crossed the line, she blew kisses to those watching on, falling on her back beyond the tape and covering her eyes with her hands as she contemplated what she had achieved.
After winning the 2016 and 2017 world titles, followed by Commonwealth gold in 2018, Duffy spent more than a year battling a foot injury until the summer of 2019. And last winter her training was disrupted by a knee problem.
This victory was also significant for Bermuda, which became the least populous nation ever to win an Olympic gold.
"It was definitely a lot of emotion to deal with, it is slowly hitting me. This has been my dream since eight years old - I always wanted to be an Olympic champion," Duffy told BBC Sport.
"There have been many tears, many heartbreaks, many times I wondered if I would ever be healthy again to compete at the top."
While Taylor-Brown's chances of winning gold were dashed by the puncture, she said she would have been happy with a top-five after a troubled build-up.
She withdrew from the final pre-Tokyo World Series round in Leeds because of the injury, although she did not disclose the problem at the time.
"I got a stress response in my femur 12 weeks ago. So that was a bit of a shock," said Taylor-Brown.
"My training had gone so well before then, though, so I knew I had all that in the bag. I wanted to keep it private.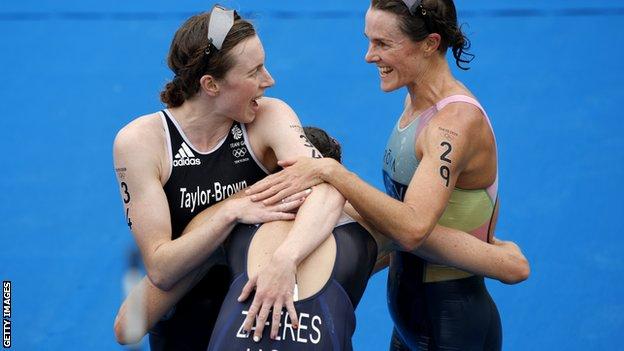 "You don't want to show your competitors your weaknesses, and so I did just say I was ill, but I've had six weeks of building my running back again.
"It's not perfect, it's not what I wanted. It's not what anyone would want, but I think I got myself into a really good position and I was as fit as I could have been on that start-line today with the circumstances that I faced."
Learmonth added: "I can't believe how amazing this [Taylor-Brown] girl is. If you knew what she had been through... I can't put it into words."
Zaferes was the 2019 world champion but has struggled for form this year following the sudden death of her father Bill in April, who introduced her to the sport as a child.
Britain's former world champion Non Stanford, who is a training partner of Zaferes and part of the BBC's commentary team, said she had "goosebumps" at what the American had achieved.
"Katie lost her father earlier this year and to get through that and win a medal at the Olympics is inspirational."