Tokyo Olympics: First Covid cases in athletes' village as Team GB athletes cleared to resume training
Last updated on .From the section Olympics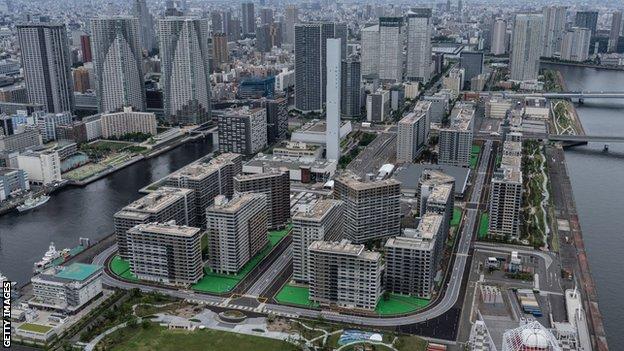 Two South Africa footballers have become the first competitors to test positive for coronavirus in the athletes' village in Tokyo - five days before the start of the Olympic Games.
Meanwhile, six athletes and two staff members from Team GB's athletics team, who were required to self-isolate after being identified as close contacts with a fellow passenger on their inbound flight to Japan, have resumed training.
The athletes have all produced multiple negative PCR results during their time in isolation.
South Africa's Football Association confirmed Thabiso Monyane and Kamohelo Mahlatsi as their positive cases.
Mario Masha, the South Africa football team's video analyst, also tested positive on Saturday.
Organisers say 21 South Africa players and officials have been identified as close contacts.
They are confined to their rooms in the Olympic village, with all of their meals delivered to the door, and they must take daily PCR tests.
All the results on Sunday were negative and as long as that continues, the squad will be will be allowed to train in a bubble as they prepare for their match against Japan on Thursday.
"We have three positive cases of Covid-19 in the camp here, two players and an official," said South Africa team manager Mxolisi Sibam.
"There is daily screening which included taking temperature and saliva testing.
"Masha and Monyane reported high temperatures and positive saliva tests and were then taken to do the nasal test, which we all had initially taken - and they unfortunately tested positive for Covid through that test. Mahlatsi is the latest player to go through the same process."
Monyane, a right-back with Orlando Pirates in his homeland, posted on social media when the team arrived in Tokyo.
South Africa Sevens rugby coach Neil Powell also tested positive on Sunday on arrival in Japan and is now isolating in Kagoshima, where the squad is based for a pre-Games training camp.
On Monday, the Czech Olympic Committee announced that beach volleyball player Ondrej Perusic had tested positive in the athletes' village, two days after a staff member had tested positive following their arrival in Tokyo on a charter flight from Prague.
Organisers had earlier announced six new cases connected to the Olympics including media, contractors and other personnel, though none of those were in the village.
That brings the total number of positive cases to 62, with 29 among the 22,000 accredited people who have arrived from abroad.
Infection rates are rising among the general population of Tokyo, topping 1,000 new cases for four consecutive days. Polls show many Japanese people oppose holding the Games with the influx of overseas visitors it entails.
One of the Games' sponsors, Toyota, said its executives would not be attending Friday's opening ceremony, an event spectators were already unable to attend.
The manufacturer also confirmed it would not run any Olympics-related adverts in Japan because of the uncertainty around the Games among the country's population, though adverts would still be aired internationally.
BOA confirm eight close contacts
The British Olympic Association (BOA) said six athletes and two staff members from the athletics team were identified as close contacts of an individual who is not from the Team GB delegation in Tokyo and were required to self-isolate in their rooms at the association's preparation camp.
The athletes have since been cleared to return to training after they all produced multiple negative PCR results, though they are training away from other Team GB athletes at present as a precaution.
In response to the initial news of the isolation, British athlete Taylor Campbell, who will compete in the hammer throw in Tokyo, said cases like this would be "unavoidable".
"I'm on a flight now with GB members and instead of putting us together at the back of the flight we are mixed among the public," he tweeted.
"We asked at the desk to be moved next to other team members onto empty rows but weren't allowed to change our seat. We have trained hard to get in this position to now risk it all on something out of our control."
Speaking on Saturday, Games chief Seiko Hashimoto said: "Athletes who are coming to Japan are probably very worried. I understand that.
"We are doing everything to prevent any Covid outbreaks. If we end up with an outbreak we will make sure we have a plan in place to respond."
Australia's entire athletics team for the Tokyo Olympics were quarantined in their rooms on Saturday at their pre-Games training camp in Cairns, following a Covid-19 scare.
An inconclusive test had been returned by an official but subsequent tests were negative, the Australian Olympic Committee (AOC) confirmed on Sunday.
Athletes have since been permitted to compete in a warm-up event.
"My understanding is [Athletics Australia] applied an abundance of caution," said David Hughes, the AOC's chief medical officer.
Positive cases 'lower than expected'
Dr Brian McCloskey, who has overseen the Covid counter-measures at Tokyo 2020, has suggested the risk of the virus spreading during the Games is minimal and that the positive cases announced over the weekend were proof the system to reduce infection was working.
"What we're seeing is what we expected to see," said McCloskey, who is an expert in emergency planning and led the planning operation for public health services at the London 2012 Olympics.
"If I thought that all the tests that we did were going to negative then I wouldn't bother doing the tests in the first place. We do the tests because they are a way of filtering out people who might be developing an infection who might become a risk later.
"Each layer of filtering is a reduction of risk for everybody else and that's what we expected to see. The numbers we're seeing are actually extremely low. They're probably lower than we expected to see if anything.
"We know that nine out of ten people close contacting do not get coronavirus and do not spread it to anyone else and therefore the science suggests that penalising all ten is illogical. So what we try to do is focus on the measures that reduce the risk as much as possible and that's by making sure they don't interact with other people.
"There are no absolute certainties in the world, coronavirus or anything else, so I'm not going to start and guarantee people won't be close-contacted out of the Games. All I will say is it is as unlikely to happen as we can make it.
"If it happens, we manage the situation to ensure it doesn't pose a risk to anybody else."