Tokyo Olympics: Day-by-day guide to the key events, big stars and British medal hopes
By Ollie Williams
BBC Sport
Last updated on .From the section Olympics
Olympic Games on the BBC
Hosts:
Tokyo, Japan
Dates:
23 July-8 August
Coverage:
Watch live on BBC TV, BBC iPlayer, BBC Red Button and online; Listen on BBC Radio 5 Live, Sports Extra and Sounds; live text and video clips on BBC Sport website and app.
The Olympics are here so what better way to plan your two weeks than with our day-by-day guide (all times BST).
Thursday, 5 August - day 13
Athletics (men's triple jump, men's shot put, men's 110m hurdles, men's 20km race walk, women's pole vault, men's 400m, women's heptathlon, men's decathlon), boxing (men's feather), canoe sprint (men's K1 200m, women's C1 200m, women's K1 500m, men's K2 1,000m), cycling (women's keirin, men's omnium), diving (women's 10m platform), hockey (men), karate (women's kata, women's kumite -55g, men's kumite -67kg), marathon swimming (men), skateboarding (men's park), sport climbing (men), table tennis (women's team), wrestling (women's freestyle 57kg, men's freestyle 57kg, men's freestyle 86kg).
Highlights
GB's reigning Olympic champion Liam Heath seeks to retain his sprint canoeing's men's K1 200m final at 03:25. Heath has since added two world titles but Hungary's Sandor Totka is shaping up to be a formidable rival.
The men's hockey final starts at 11:00. Britain are still waiting to reach the Olympic men's podium in this sport for the first time since winning the title in 1988. Hosts Japan have only made the final once before, in 1932 - helped that year by the fact only three teams entered in the first place.
Brit watch
Matthew Walls will ride for GB in track cycling's omnium (07:30-10:30), after picking up world bronze last year. The omnium format has changed for Tokyo 2020: shorter sprint disciplines have been dropped and it's now a mix of four endurance events spread over one day's racing, including a new tempo race where riders can score points through sprints on almost every lap.
Holly Bradshaw, fourth at the last world championships and fifth in Rio, competes in the women's pole vault (11:20-13:30). This year's world number one is American Katie Nageotte, who should challenge Greek Rio 2016 champion Katerina Stefanidi and world champion Anzhelika Sidorova for gold.
The men's marathon swim (which ends shortly before 01:30) will feature GB's Hector Pardoe, who won an Olympic qualifier in Portugal to book his place. Pardoe's training regime includes swimming 90km per week.
Andrea Spendolini-Sirieix and Lois Toulson dive for GB in the women's 10m platform event (07:00-08:30).
World watch
Ashton Eaton has retired after winning the decathlon in 2012 and 2016, so the crown in the 10-event athletics bonanza is up for grabs. Contenders include France's Kevin Mayer, Canadian Damian Warner, German world champion Niklas Kaul and Estonia's Maicel Uibo are all in the mix. The deciding 1500m race starts at 13:40.
Meanwhile, the men's shot put final (03:05-04:15) will feature Ryan Crouser, the American who broke the event's 31-year-old world record in the weeks leading up to the Games. Crouser appropriately described breaking that record as "a huge weight lifted".
A custom-built park on Tokyo Bay will welcome the men's park skateboarding finalists (04:30-05:20). Hawaiian Heimana Reynolds is a leading contender for gold after winning the world title in 2019, his breakthrough year. Reynolds' favourite training technique is rock running: picking up a heavy rock then using it to run, weighed down, along the ocean floor off the coast of Hawaii.
Expert knowledge
Karate is one of the final sports to get under way in Tokyo (02:00-13:40) as it makes its Olympic debut. There are two disciplines. In kata, you compete on your own and demonstrate offensive and defensive moves against a virtual opponent. You score points for technique, timing and athleticism. In kumite, which unlike kata is divided into weight classes, you spar against rivals in a format more familiar to people who've seen the likes of judo or taekwondo. GB won't have any athletes in this year's karate events.
Friday, 6 August - day 14
Medal events: 23
Athletics (women's 20km race walk, men's 50km race walk, women's javelin, men's 5,000m, women's 400m, women's 1500m, women's 4x100m relay, men's 4x100m relay), beach volleyball (women), boxing (men's heavy), cycling (women's madison, men's sprint), football (women), hockey (women), karate (men's kata, women's kumite -61kg, men's kumite -75kg), modern pentathlon (women), sport climbing (women), table tennis (men's team), wrestling (women's freestyle 53kg, men's freestyle 74kg, men's freestyle 125kg).
Highlights
Women's football reaches its Olympic final at 03:00. The United States have won four of the six Olympic women's football tournaments, but lost to Canada this time.
In hockey, it's a different story. Britain clinched Olympic gold in dramatic fashion in 2016, winning a late-night penalty shootout against the Netherlands in Rio. But things haven't been so easy for the home nations since. England, beaten 2-0 by the Netherlands in the quarter-finals of 2018's World Cup, are now ranked fifth in the world and the Dutch have been dominant. The final takes place on Friday from 11:00.
Laura Muir has been there or thereabouts for a medal in the women's 1500m (13:50) for years without managing to reach the podium at outdoor world or Olympic level. For Tokyo, Muir has dropped the 800m distance to focus purely on converting her 1500m potential into a medal. Kenya's Faith Kipyegon may be difficult to dislodge from the top step of the podium - the Rio champion lowered her national record just before this year's Games.
At the velodrome, the madison has been restored to the Olympic programme (the men's madison was dropped after 2008, while the women's madison is making its debut in Tokyo). The madison, which involves teams of two riders, is all about tactics and endurance. If you haven't watched it before, you'll probably be relying on the commentators to follow what's happening. Katie Archibald and Laura Kenny ride in the madison for GB at 09:15.
Friday could be Shauna Coxsey's big day after years of build-up to the Olympic debut of her sport, climbing (10:30-14:20). Expect her to excel in the speed and bouldering sections, meaning her success could depend on how she handles the lead climbing, which measures how far up a wall she can get. The big unknown is how she has recovered from a persistent back injury. Slovenia's Janja Garnbret is widely expected to take gold.
Brit watch
Everybody loves the drama of a good 4x100m relay (14:30-14:50), the track equivalent of a penalty shootout. Names can be made, heroes and villains created in the simple passing (or not) of a baton. Britain has had a reasonable amount of relay success lately - both teams took world silver in 2019 and the men were world champions two years earlier.
World watch
Generally speaking, beach volleyball has been dominated at the Olympics by the United States and Brazil - both being countries where playing volleyball on a beach has a certain appeal. But that's changing. Three of the past four world titles in the women's event (02:00-04:50) have gone to other nations, the latest being won by Canada. Friday's medal games will help to illuminate whether that shift in power has reached the Olympic stage.
Rhythmic gymnastics begins on Friday with individual all-around qualification (02:20-09:45). This sport is basically 'the other gymnastics' to British viewers used to watching only artistic gymnastics, since Britain has barely ever entered the Olympic rhythmic gymnastics, which involves routines completed with ribbons, hoops, balls and clubs to complement the performance. Russia dominates rhythmic gymnastics - this year, Dina and Arina Averina could force statisticians to look up the last time, if ever, twins took first and second place in a summer Olympic individual event.
Expert knowledge
Perennially one of the least penetrable Olympic sports, modern pentathlon's women's event takes place on Friday. In a nutshell, athletes swim, fence and ride a horse to end up with a points score that gives them a time handicap for a final event that's a bit like the Winter Olympics sport of biathlon: they must run a cross-country course while occasionally shooting at targets. The first one over the line after the run wins.
The showjumping is usually a highlight as pentathlon's rules require that the rider cannot use their own horse but instead gets supplied with one at random, sometimes with unexpected consequences. A horse named Pingping had an infamous meltdown at Beijing 2008, destroying the hopes of Belarusian rider Yahor Lapo.
Despite pentathlon's unlikely line-up of disciplines - designed to replicate the skills a soldier might have needed a century ago - Britain has a fine pedigree in the women's sport, with multiple Olympic medallists. Kate French and Jo Muir will compete for GB in Tokyo, and both have a shot at a medal. Events run from 06:30 to 12:15.
Saturday, 7 August - day 15
Medal events: 34
Artistic swimming (team), athletics (women's marathon, women's high jump, women's 10,000m, men's javelin, men's 1500m, women's 4x400m relay, men's 4x400m relay), baseball, basketball (men), beach volleyball (men), boxing (women's fly, men's fly, women's welter, men's middle), canoe sprint (women's C2 500m, men's C1 1,000m, women's K4 500m, men's K4 500m), cycling (men's madison), diving (men's 10m platform), equestrian (jumping team), football (men), golf (women), handball (men), karate (women's kumite +61kg, men's kumite +75kg), modern pentathlon (men), rhythmic gymnastics (individual), volleyball (men), water polo (women), wrestling (women's freestyle 50kg, men's freestyle 65kg, men's freestyle 97kg).
Highlights
More than 30 gold medals are available on Saturday so there's going to be action almost anywhere you look. The men's football final (12:30-15:00) will establish whether the gold medal is again heading to Latin or South America, having been won by Argentina twice, Mexico and Brazil at the past four Games. Hosts Japan reached the bronze-medal game in London nine years ago and will hope to do better in 2021.
Tom Daley has what is probably his last opportunity to claim the Olympic 10m platform title that has so far eluded him (07:00-08:30). A bronze medallist at London 2012, Daley has won the event's world title twice, most recently in 2017. Daley won 10m gold at a test event for Tokyo 2020 in May.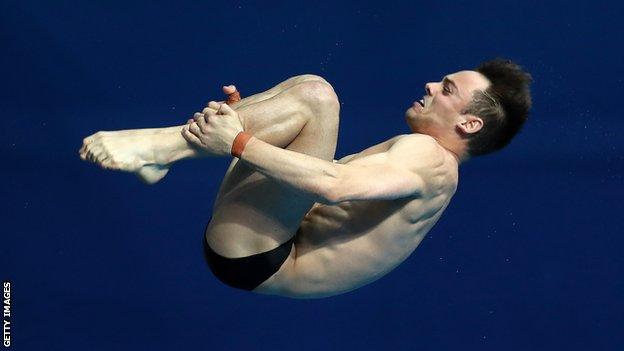 Athletics features the men's and women's 4x400m relays (13:30-14:00). The US won both these titles at the 2019 World Championships. Britain's women were less than a second off the podium that year - the men received a DNF after a baton handoff disaster.
It's the final round of the women's Olympic golf contest from 23:30 on Friday until 07:30 on Saturday. Mel Reid and Jodi Ewart Shadoff are GB's two representatives. Reid's world ranking has sensationally rebounded in recent years to a career high of 30th this year.
Brit watch
The men's modern pentathlon (06:30-12:15) features Team GB's Jamie Cooke, the 2018 world and 2019 European champion, alongside Joe Choong. However, this could be a late Valentine's Day gift for France - Valentin Belaud and Valentin Prades both have a solid chance of taking gold.
Four boxing titles are awarded on Saturday (06:00-07:55).
Men's madison day at the track cycling sees Ethan Hayter and Oliver Wood team up for Britain. The pair, European bronze medallists in 2018, are considered an outside bet for a medal.
Showjumping's team event reaches its conclusion (11:00) with Ben Maher and Scott Brash hoping to replicate their roles in earning GB gold at London 2012. Holly Smith is the third team member. Switzerland have a strong shot at gold with two of the world's leading riders, while Jessica Springsteen - daughter of singer Bruce - is in the US team.
World watch
The men's basketball final (03:30) is ordinarily a coronation for the United States, who've won six of the seven Olympic titles since NBA players began competing at the Games in 1992. The fact that the gold-medal game takes place well before the bronze-medal game - to accommodate US prime-time TV - tells you everything you need to know about American confidence in their team.
The women's marathon takes place in Sapporo, capital of the northern island of Hokkaido well away from Tokyo, after concern that Tokyo's summer heat could prove too much for such a demanding event. Covid-19 measures will mean the unusual sight of the marathon taking place without any spectators lining the streets. Britain's contenders are Steph Twell, Jess Piasecki and Stephanie Davis.
Handball's men's final takes place at 13:00. France, Denmark and Norway will all expect to be in the mix for medals in a sport dominated by European countries. France's hopes may rest on talismanic star Nikola Karabatic's recovery from a knee injury.
Expert knowledge
Water polo involves four eight-minute periods in which players can't touch the pool's sides or bottom, so must tread water throughout using a specialised eggbeater kick. The sport is big in Hungary, where the men have won Olympic gold nine times, although Hungary's women have never reached the podium since their introduction in 2000. This year's women's final (08:30) could involve a resurgent Hungarian team and is very likely to feature the United States, who are dominant.
Sunday, 8 August - day 16
Medal events: 13
Athletics (men's marathon), basketball (women), boxing (women's light, men's light, women's middle, men's super-heavy), cycling (men's keirin, women's sprint, women's omnium), handball (women), rhythmic gymnastics (group), volleyball (women), water polo (men).
Highlights
Eliud Kipchoge, the defending Olympic marathon champion and world record holder, is widely expected to feature heavily in the final athletics event of Tokyo 2020 (conclusion shortly after midnight on Sunday). Kipchoge said he is "still hungry" at 36 in the build-up to these Games and dismissed concerns about the heat. He said conditions in Sapporo, some 500 miles north of Tokyo, will be the same for everyone and won't be a factor. Callum Hawkins, Ben Connor and Chris Thompson run for GB.
The men's super-heavyweight division wraps up boxing at Tokyo 2020 (06:00-07:55). Commonwealth champion Frazer Clarke is the British entrant but Uzbekistan's Bakhodir Jalolov is the favourite to win gold.
From 12:00, Tokyo says goodbye to the Olympics in its closing ceremony. Exactly what form that will take depends to some degree on the pandemic and associated public health measures in Japan.
Brit watch
There are three other boxing finals on Sunday with possible British interest in all, led by 2019 world champion Lauren Price in women's middleweight (06:00-07:55).
World watch
Lang Ping won volleyball gold as a player in 1984 then returned as coach to guide her national team, China, to the Olympic title in Rio five years ago. Nicknamed the 'Iron Hammer' in a subsequent documentary, Lang is back to defend that title in Tokyo. Her team could face Japan in Sunday's women's final (05:30), which would mean a reunion with Japan coach Kumi Nakada, another veteran of Los Angeles 1984 - she played as Japan took bronze.
Expert knowledge
Schedulers have held back the men's keirin until the last day of the Olympics (02:00-05:15), knowing the track cycling discipline has a huge Japanese following. The keirin, where riders are paced by a motorised scooter for several laps before a sprint finish, was invented in Japan and added to the Olympics in 2000 after Japanese pressure. Chris Hoy (2008, 2012) and Jason Kenny (2016) have won the past three Olympic keirin titles for GB. Kenny or Jack Carlin could be medal contenders for Britain this time around. Meanwhile, Katy Marchant goes in the women's sprint and Laura Kenny rides the women's omnium.