Coronavirus: Welsh athletes react to Olympic postponement
Last updated on .From the section Olympics
Double Olympic taekwondo champion Jade Jones says the postponement of the 2020 Olympic Games due to the coronavirus pandemic is "devastating," even though she understands the decision.
The event, due to begin on 24 July in Tokyo, Japan, will now take place "no later than summer 2021".
Jones was aiming for a historic third successive Olympic gold medal.
"As an elite athlete, it is very de-motivating and mentally tough," Jones said. "I'm truly gutted."
The postponement of the Olympics Games and Paralympic Games was announced in a statement released on Tuesday, 24 March by the organisers of Tokyo 2020 and the International Olympic Committee.
Jones says it is difficult to shrug off the disappointment even though she endorses the decision to delay the Games.
"You give your heart and soul to something for four years then for it not to go ahead is just horrible," she said.
"Obviously health comes first, and my biggest priority right now is protecting my family and my loved ones, and doing everything I can do help save the lives of others.
"I'm a very positive person but the idea, right now, of having to devote myself to another year's slog is a very difficult one."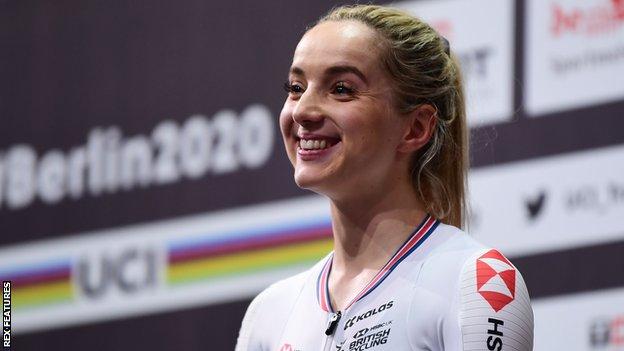 Barker's double blow
Welsh cyclist Elinor Barker, the only Great Britain rider to win a gold medal at the recent Track Cycling World Championship, echoed Jones' disappointment.
"Well, that's that. Olympics postponed a year and Tokyo 2020 becomes Tokyo 2021," she wrote on Instagram.
"I'm devastated. That's not to say I disagree with the decision, 100% understand and respect the reasons.
"I know there are bigger issues right now, and this pales in comparison to the loss a lot of people around the world are experiencing, but I can't pretend it doesn't hurt a little."
Barker also revealed on social media that she had been studying for a degree, but had deferred her last year to concentrate on the Olympics.
"The extra fun irony is that the only reason I started studying in the first place was because it gave me something to do on training camps, which my coach often referred to as 'quarantine'," she wrote.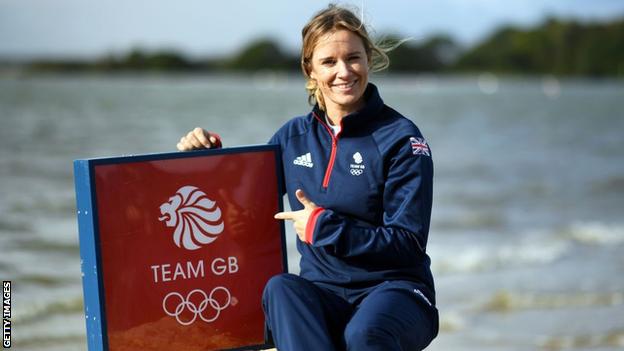 2016 Olympic sailing champion Hannah Mills said while some athletes "will probably be ecstatic" they have another year to prepare, "the word that describes it most for me is "gutted".
"Everything you do is preparing for a date you believe will never move. It's what we're always told, the Olympics wait for no-one," said the 32-year-old reigning World Champion.
"It's heart-breaking because so much goes into it and for me being at the end of my career, another year is a big deal.
"It's a question of whether your body is going to be as good as it is this year; and the mental determination and will and want. All of that kind of stuff comes into question."
And while Mills cannot hide her disappointment, she backs the decision to postpone the Games
"100% it's the right decision as heart-breaking and difficult as it is for many athletes.
"The health of the global population comes first.
"I get that and I'm glad the IOC and Tokyo 2020 made that decision yesterday (Tuesday) and they didn't wait out the four weeks - that would have been really tough."

How other Welsh athletes reacted
Dai Greene, world champion hurdler: "Tokyo 2021, the work continues. Adapt and overcome."
Benjamin Pritchard, Paralympic rowing: "We kind of had false hope the games would go ahead, but then we saw events being cancelled around the world.
"While I wanted to go out and compete it is the right decision for the games to be postponed and I have now changed my goals and hopefully we will get there next year."
Mellissa Courtney-Bryant, middle distance runner: "My Olympic dream may have to wait another year, but I'll be making the most of this extra year to be even better for 2021. Hope everyone is staying safe, abiding the lockdown rules & enjoying this beautiful sunshine."
Jasmine Joyce and Keira Bevan, rugby sevens: Joyce said: "It's what has to be done. In the world at the moment, keeping everyone safe and healthy is the priority and to have this worldwide event going ahead would mean that everyone wouldn't be safe.
"It is gutting but it gives everyone an extra year to prepare and make the games even more exciting and raise the standards even more.
"For the time being I'm training as hard as I can, keeping up with fitness and speed, doing home workouts and utilising the time we have off to make myself the best athlete I can."
Bevan said: "Obviously it's gutting but it's the right decision. It means we get more contact time and for Team GB to gel as a squad."
Sam Gordon, sprinter: "Don't change the goal, change the plan - Tokyo 2021."
Ben Llewellin, shooter: "The postponement of the Olympics is a massive blow as my preparations were going well to make sure I was there, obviously this is a huge hiccup to my prep but it is for the best at this time. I'm just hoping this will be sorted soon so we can get back to competing and put the plans in place to prep for next year. On the plus side I have another year to make sure I am 110% ready and at my peak."