Callum Skinner calls for Tokyo Olympic & Paralympic postponement
Last updated on .From the section Olympics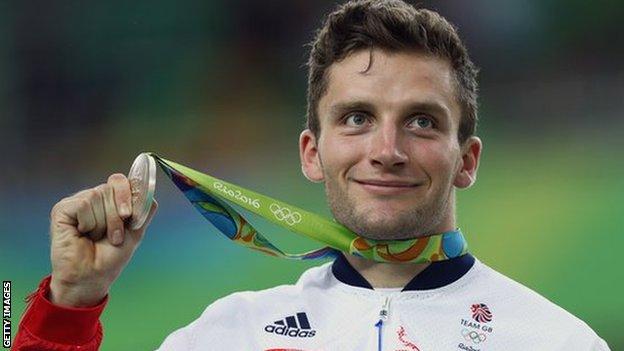 The decision to postpone this summer's Tokyo Olympics and Paralympics "needs to be made now", says British Olympic champion Callum Skinner.
The cyclist - who fronts competitor-led movement Global Athlete - says both should be rescheduled "until the Covid-19 global pandemic is under control".
He warned boycotts could ensue, with the health of athletes at risk.
"People think Olympians are superheroes but they are normal people and fall ill like everybody else," he said.
"At London 2012, about 700 out of 10,000 athletes were diagnosed as asthmatic, which puts them in a high-risk category. Even if athletes don't have Covid-19, they may have a cough so can't compete.
"If the International Olympic Committee does continue to push ahead, we could see boycotts. As the pandemic gets worse and worse and there are more and more societal restrictions put in place, I think the call needs to be made now."
The Olympics are scheduled to take place in Tokyo from 24 July to 9 August with the Paralympics due to be held from 25 August to 6 September.
A statement released by Global Athlete says they have consulted "hundreds of athletes" and Skinner says some are already being affected greatly.
"It's becoming incredibly disruptive. A lot of the ones I'm speaking to aren't able to train anywhere near as normal," said the 2016 men's cycling team sprint gold medallist told BBC Scotland's Sportsound.
"I think around 40% of sports haven't finished their qualification window for the Olympic games as well, so there are a lot of athletes in limbo.
"There's a deeper question as well about your social conscience as to whether you keep training in groups or go to training facilities, with the pressures that might put on society and the NHS."
One of Global Athlete's stated aims is to 'address the balance of power between athletes and administrators' and Skinner is critical of the IOC.
IOC president Thomas Bach said on Friday that "different scenarios" for the games are being considered for the first time, but Skinner has called for certainty.
"What has been puzzling from the IOC is the tone they've adopted is one of just continue and carry on," he said. "That's so out of step of what we've seen from the media and government leaders.
"I think it's starting to look quite likely it will be postponed, but athletes need certainty. It seems almost naive, so a little bit of clarity would be a good step forward.
"At a time when health is such a big concern, I don't think anyone else needs the additional stress of trying to fit in training or wondering how the Olympics are going to continue."
On Saturday, USA Track and Field, athletics' US governing body, called for the Olympics in Tokyo to be delayed because of the ongoing coronavirus situation.
It follows a request from USA Swimming for it to be delayed by 12 months.
Meanwhile on Friday, four-time Olympic champion and BBC Sport pundit Michael Johnson expressed fears that athletes could "risk their lives" trying to train for the Games and asked for clarity on the IOC's decision-making process.
"The IOC should communicate the window for deciding on the '20 Olympics," tweeted the former US athlete. "Athletes must keep training but for many there's nowhere to train.
"They may risk their lives and others trying to continue training. Answer isn't just cancel ASAP. But communicate the process to the athletes."