Tokyo 2020: Boxing officials from Rio 2016 to be banned from 2020 Olympics
Last updated on .From the section Olympics
None of the 36 referees and judges used at the Rio 2016 boxing competition will be allowed to officiate at Tokyo 2020, an International Olympic Committee task force has said.
Several judges and referees were sent home from Rio after a number of questionable decisions during the boxing tournament.
At Tokyo, referees and judges will be picked from a pool of International Boxing Association (AIBA) certified officials, who have been reviewed to ensure they meet the criteria.
"The main objective of the IOC boxing task force is to ensure the completion of the mission of delivering events, while putting the boxers first, and with transparent and credible sporting results and fair play," said boxing task force chair Morinari Watanabe.
An investigation by the AIBA in 2017 found no interference in results and recommended that the Rio judges be reintegrated on a "case-by-case basis", but the IOC's new selection criteria have now ruled them ineligible for the Tokyo Games.
The task force said its decision followed discussions with athletes to increase clarity, transparency and integrity in the selection process and officiating at the Olympics.
Scores from all judges at the end of each round will also now be displayed publicly during qualifying competitions and the Games.
Irish bantamweight Michael Conlan, who said he was "robbed", and Kazakhstan's Vassiliy Levit lost bouts in which they both appeared to win comfortably during Rio 2016.
The bad verdict among many - analysis
BBC Radio 5 Live boxing analyst Steve Bunce was ringside throughout Rio 2016:
"The atmosphere before Conlan was toxic - the night before his bout the decision in the heavyweight final was bad. Russian Evgeny Tishchenko took that gold medal, when he was awarded the verdict against Kazakhstan's Levit.
"Conlan even acknowledges that the result in that final was dreadful, certainly as bad as his.
"After the first round of Conlan, when the shocking score was in, there was a growing ripple of discontent and disbelief inside the arena.
"Several of the Irish boxers had the score, they got it to the corner. There was shock - people knew then that something bad was happening. It was the confirmation of all the rumours that had been circulating.
"People in the radio and television media sections were removing their headsets, covering their microphones and shouting to each other things like: 'Have they got the corners mixed up?' Nobody could believe it.
"It is often overlooked but Conlan won the third, I thought he won it clear. But, the verdict appears to have been sorted. There is an amazing picture at the end when the result is announced: Conlan is full of such rage that he doesn't look like Michael Conlan, his face is distorted. It was a bad, bad afternoon."
Task force outlines Tokyo scoring rules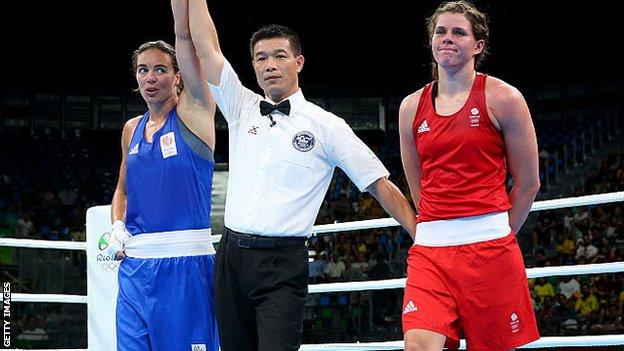 Controversial scoring decisions have featured in Olympic bouts in the past, notably when American Roy Jones Jr lost a 3-2 decision to South Korean fighter Park Si-hun at the 1988 Olympic Games.
And there were more widely-debated decisions at Rio 2016.
Great Britain's Savannah Marshall lost out to Dutch fighter Nouchka Fontijn. One judge - Colombian Armando Carbonell - was one of those involved with the controversial Tishchenko heavyweight win and gave Fontijn all four rounds.
Elsewhere, American Gary Antuanne Russell also lost a light-welterweight quarter-final to Uzbekistan's Fazliddin Gaibnazarov. When judges were sent home from the Games, Russell's mother said: "It doesn't change anything. It doesn't change the decision. It means nothing to us."
The IOC boxing taskforce said its decision not to use Rio 2016 judges in Tokyo was just one of a number of "measures aimed at increasing clarity, transparency and integrity".
In a 115-page document it listed its regulations for boxing at the Games and clarified the factors considered when scoring a bout.
The number and quality of blows will be considered, as will a fighter's ability to dominate a contest through "technical and tactical superiority".
The task force will also evaluate "competitiveness", which it states takes into account which boxer is "consistently trying to win through the entire bout".
Rounds can be scored 10-9 if judged to be "close", 10-8 if there is a "clear winner" and 10-7 if there is "total dominance".
It made clear a round can still be judged as 10-9 and close even if a fighter faces a standing eight-count or is knocked down.
Rounds where neither fighter is knocked down or faces a standing count can still be scored 10-8 or 10-7 if needed.