World Mental Health Day: New plan to help British Olympic and Paralympic athletes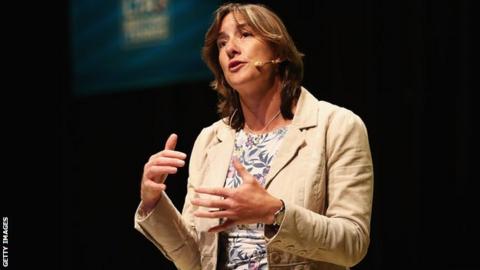 Measures to help top British athletes deal with mental health issues are being introduced by UK Sport and the English Institute of Sport (EIS).
The new Mental Health Strategy launched on Wednesday - World Mental Health Day.
"I don't think high-performance sport will ever feel cosy or comfortable - it will always be tough and hard and there will be high pressure," said Dame Katherine Grainger, chair of UK Sport.
"But we want to help people deal with it better."
The new strategy's aim is to help produce "a positive mental health environment" for British Olympic and Paralympic athletes.
It will focus on four key elements - education, provision, communication and assurance.
A mental health screening programme will also be added for athletes and staff who are joining and leaving elite set-ups.
Grainger, who won five Olympic rowing medals during her career, believes that it is just as important to take care of athletes' mental needs as their physical ones.
"So just as I knew I had to be strong and fit to deal with the physical demands of the training, I think we should be making it easier for athletes to deal with the mental strain, too," she said.
In July, the father of British snowboarder Ellie Soutter said a history of mental health issues - coupled with the pressure of elite performance - may have contributed to her ending her life in Les Gets in the French Alps.
Inquiries into duty of care standards at British Gymnastics, British Cycling, British Swimming, British Canoeing, GB Taekwondo and the British Bobsleigh and Skeleton Association, among others, have taken place since the Rio Games in 2016.
The new strategy will be led by a head of medical health and guided by a mental health expert panel, which is expected to feature four psychiatrists and psychologists, all with experience of high-performance sport.
Grainger said: "World Mental Health Day provides a fantastic platform to focus on this very important area that doesn't always get the attention it should.
"In both sport and society, it is vital that we work towards creating the most positive mental health environment whenever possible."
There will be a dedicated mental health section on the EIS website, to help athletes and staff find help more easily.
EIS director of medical services Dr Rod Jaques said he is confident the organisations are "moving in the right direction".
"For over a decade, we have had doctors who are consultants in sport and exercise medicine looking after our elite athletes," he added.
"The doctors are trained to recognise mental health issues and are assisted by EIS sports psychologists and performance lifestyle advisers.
"The new Mental Health Strategy and the other measures we are promoting today demonstrate that our work in the area is consistently evolving and improving as we move forward."